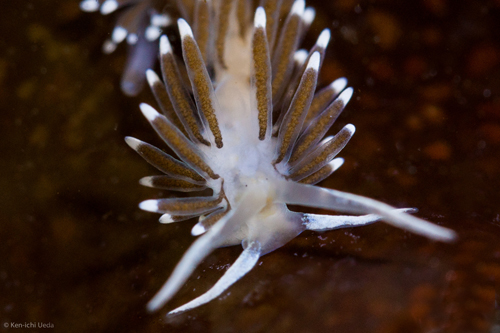 Cuthona cocoachroma Williams and Gosliner, 1979
This week's BOW serves three purposes: (1) To display Ken-ichi Ueda's exquisite image of Cuthona cocoachroma, which Ken-ichi took in the tidepools at Hazard Reef, Montana de Oro State Park in San Luis Obispo Co. on 17 May 2014. (2) To document Ken-ichi's southern range extension of this species, which since its original description in 1979 has been found only as far south as Duxbury Reef, Marin Co. (it ranges north to the Olympic Peninsula, WA). (3) To correct the misidentification of the aeolid pictured in BOW 802 , which is actually one of those big northern Flabellina (see that pointed foot corner behind the animal's left cephalic tentacle?) and almost certainly F. trophina , with those closely packed, fusiform cerata, slightly annulate rhinophores, and thick, extensible oral tube, or "snout," which is frequently upturned. Cuthona cocoachroma, has a color pattern similar to that of F. trophina, but lacks the extensible oral tube, and has slender digitiform cerata in distinct clusters, very long smooth rhinophores, and a foot rounded in front. It is also much smaller than F. trophina (15 mm, compared to 70 mm).
Cuthona cocoachroma feeds suctorially on the hydroid Thuiaria sp (Bill Rudman's Sea Slug Forum)), which is present at Hazard Reef and other sites south of Duxbury Reef (personal observations), but which becomes more abundant intertidally north of San Francisco.