Image courtesy of Dave Cowdery
Photo taken at Byron Bay, Australia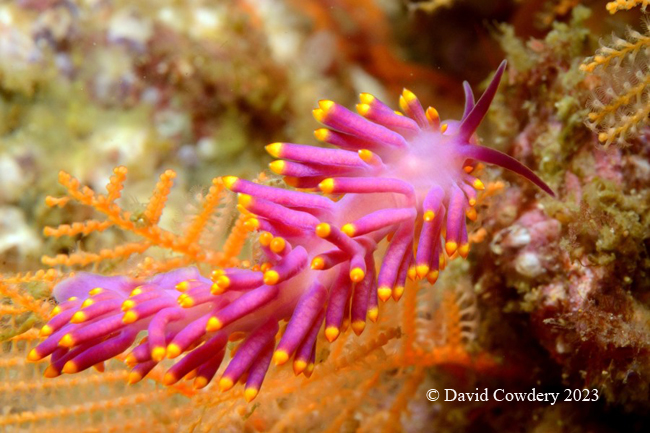 Tenellia sibogae (Bergh, 1905)
Members of the genus Tenellia were previously assigned to the genus Cuthona. Molecular evidence indicates they constitute a separate and distinct clade (Cella et al. 2016).
The body is pink to purple with well-spaced cerata having yellow tips. The rhinophores are slender and acutely pointed and dark in color.
This widespread Indo-Pacific species feeds on hydroids of the genus Sertularella on relatively shallow reefs, 5-15 m
References:
Cella, K., Carmona, L., Ekimova, I., Chichvarkhin, A., Schepetov, D. and Gosliner, T.M., 2016. A radical solution: the phylogeny of the nudibranch family Fionidae. PloS one, 11: p.e0167800.
Dave Behrens
New Braunfels, TX
Nov., 2023
Send Dave email at davidwbehrens@gmail.com

Webmaster's Notes:
Dave came to the rescue identity wise as the Webmaster had a misplaced notion that Tenellia sibogae was generally not seen off it's prey hydroid which by the way folks really delivers a whallop of a sting if you attempt photo placement of T. sibogae on the hydroid ! The Webmaster learned this lesson early on in his formative years as an underwater photographer! T. sibogae can be seen on the hyroid at left and in an earlier BOW. Jerry Allen, my life long dive buddy took the picture!