Cuthona sibogae
Photo courtesy of Jerry Allen
Photo taken at Dos Palmas Resort, Palawan, Philippines
May, 2001


.

Cuthona sibogae Bergh (1905)

This is one of the prettiest species of Cuthona . Jerry's specimen shown here, from Dos Palmas Resort, Palawan, Philippines, is an example of light colored variation of the species. Often this critter is a deep flamboyant pink (Bill Rudman's Sea Slug Forum), with some specimens approaching purple in color.

Jerry's specimen is crawling on the hydroid prey of this species. The photo was taken on a night dive, when the animal seems to be most active feeding on the polyps of Sertularella quadridens. Webmaster Mike and Jerry note that during the day, little feeding activity was observed.

This species has a very wide distribution - being found though-out the Indo-West Pacific, from Southern Mozambique and Australia, to the Marshall Islands, and even into the Red Sea, at Egypt.

Some folks have confused this species with Flabellina rubrolineata . C. sibogae lacks the longitudinal red lines however. The other major give away is that the rhinophores of Flabellina rubrolineata are perfoliate not smooth as in Cuthona.





Dave Behrens
Danville, Calif
Feb. 2004





---
Jerry pictured in his boat Hardbody off the California Coast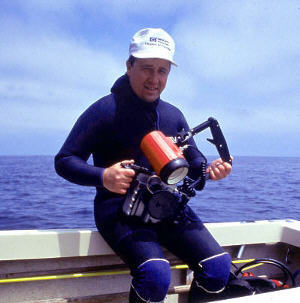 An electrical engineer by training(BS Purdue U.) and a nature photographer for the last 20 years. His images have been published in many publications, books and scientific journals associated with organizations such as the Cousteau Society, San Diego's Birch Aquarium and the Calif. Academy of Science(CAS). In 1992, while accompanying a group of CAS marine biologists to the island of Mindanao in the Philippines, he documented a new species of nudibranch which was named for him Ceratosoma alleni .

He has traveled extensively throughout Asia documenting the marine animals that proliferate this region. He is also an avid nature photographer and is available for field animal behavior documentation assignments.


Photo courtesy of Mark Conlin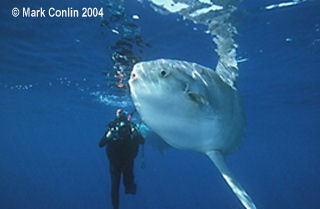 Since Jerry lives in San Diego, he spends many days each year documenting the the "blue water" animals that inhabit the waters off So. California. This 500 lb. Mola Mola was photographed 20 miles off shore where it was drifting with a kelp patty so the resident Luna fish might clean parasites off his body.

See Jerry's website at uwshooter.com .

Send Jerry mail at uwshooter@aol.com


---
Taxonomic information courtesy of:



---
© The Slug Site, Michael D. Miller 2004. All Rights Reserved.

---