Cerberilla sp.
Photo courtesy of Nagakki Sato
Onagawa, Japan


Cerberilla

sp. (undescribed)

Well the waters of Japan sure seem to be preferred home for members of the genus Cerberilla, as suggested by Rie Nakano's new book Opisthobranchs of the Islands of Japan and the companion volume on the Opisthobranchs of Ryukyu Islands , written by Atsushi Ono. The beautiful species shown here (Rie's species #660, page 287), is just one of seven species Rie reports. Atsushi adds an amazing three additional, undescribed species, bringing the total to ten. Recall we previewed Cerberilla sp. 3 from Rie's book in BOW 429 .

This photo and many of the photos in Rie's beautiful guide were taken by her friend Mr. Nagaaki Sato, a dive operator in Onagawa, Japan. The species bright red-orange coloration with the white specks sets this species apart from any other described species, anywhere. Little is known about this animal, which is only 12 mm in length.

Like other members of the genus it likely feeds on sea anemones, and might also be nocturnal.

Other species included in Rie's book are: Cerberilla affinis , C. asamusiensis, C. albopunctata , and C. annulata.

Dave Behrens
Danville, Calif
Sept., 2004





---
Rie Nikano at Kerama Islands, Okinawa, May 2002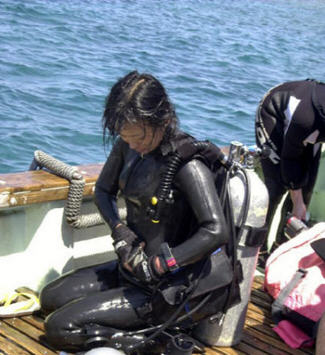 Since 1989, Rie has been a free lance writer and editor for Japanese diving magazines. Her main focus is interviews resulting in feature articles on nudibranchs for the Japanese diving magazine "Monthly Diver".

Rie was already interested in nudibrachs in 1987 when she first began diving. In 1996, She started the Japanese divers' site as webmaster. About this time Atsushi Ono from Okinawa also joined the site. Atsushi and Rie have been remained in close contact since first meeting in 1989.

To quote Rie:

"...Atsushi showed me how to photograph the many beautiful nudibranchs of the Kermama Islands. After many interesting discussions with Atsushi regarding Kerama's sea slugs, I became even more interested in nudibranchs! So, Atsushi is the real teacher of nudibranchs for me! In 1999, Atsushi recommended me to be the editor for his book " Opisthobranchs of Kerama Islands " . Thanks to Dr.Rudman, Dr.Bolland, and Mike Miller's site, I strived to do the best job for Asthushi and many readers..."

Rie has her own nudibranch web site (Japanese only).

Rie can be contacted at rie@divers.ne.jp

---
Taxonomic information courtesy of:



---
© The Slug Site, Michael D. Miller 2004. All Rights Reserved.

---