Cerberilla sp.
Photo courtesy of Webmaster
Batangas, Philippines, 1995

Cerberilla sp. (Undescribed)
This weeks BOW was chosen not only because of its awesome beauty, but because it is included in a fabulous new book just out on the Opisthobranchs of the Islands of Japan . Webmaster Mike spent a week diving with author, Rie Nakano, a couple of years ago at Okinawa. To my knowledge Rieís photo is the only published reference to this new species. You can see Rieís photo as Cerberilla sp. 3, species No. 548, page 250, in this beautifully illustrated book. This is one of six Cerberillaís she has included.
We have been aware of this new species for some time having first collected it in Batangas, Luzon, Philippine Islands. It is likely the same species as Rudmans's Cerberilla sp. 1 that Valda Fraser documented from South Coast of Kwa Zulu Natal, South Africa, near Port Shepstone.
This handsome creature can be confused with no other. The blue tipped cerata and orange "V" cutting through the rhinophores give this species away immediately. Rie reports that in Japan specimens reach 50 mm in length.
As I recall this species feeds primarily at night on burrowing anemones. It displays amazing speed crawling across coral sand bottoms.
Keep you eye open for this new species and let us know if you come across it. Itís looking for a name.
Dave Behrens
Danville, Calif
Aug., 2004

---
Rie Nikano at Kerama Islands, Okinawa, May 2002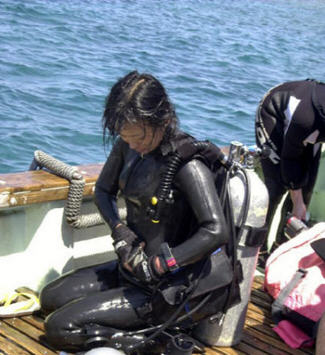 Since 1989, Rie has been a free lance writer and editor for Japanese diving magazines. Her main focus is interviews resulting in feature articles on nudibranchs for the Japanese diving magazine "Monthly Diver".

Rie was already interested in nudibrachs in 1987 when she first began diving. In 1996, She started the Japanese divers' site as webmaster. About this time Atsushi Ono from Okinawa also joined the site. Atsushi and Rie have been remained in close contact since first meeting in 1989.

To quote Rie:

"...Atsushi showed me how to photograph the many beautiful nudibranchs of the Kermama Islands. After many interesting discussions with Atsushi regarding Kerama's sea slugs, I became even more interested in nudibranchs! So, Atsushi is the real teacher of nudibranchs for me! In 1999, Atsushi recommended me to be the editor for his book " Opisthobranchs of Kerama Islands " . Thanks to Dr.Rudman, Dr.Bolland, and Mike Miller's site, I strived to do the best job for Asthushi and many readers..."

Rie has her own nudibranch web site (Japanese only).

Rie can be contacted at rie@divers.ne.jp

---
Taxonomic information courtesy of:



---
© The Slug Site, Michael D. Miller 2004. All Rights Reserved.

---