Armina sp.
Photo couresty of Webmaster
Puri Jati, Bali, Indonesia
Oct. 2003
Digital Photo

---
Armina sp. (Undescribed)



I can't believe this gorgeous action packed shot. Webmaster Mike caught this undescribed Armina in only about 15 ft. of water on a late afternoon dive when the critter was emerging from the sand to embark on it's nightly forage. Arminas like the species here feed on sea pens. I am unable to identify either the nudibranch or the sea pen. To be honest, the taxonomy of the Armina's is very poorly understood, and many species remain unnamed because of a complete lack of knowledge concerning species variability, internally and externally. Both species seen here are nocturnal, sand bottom residents usually found in areas with higher than average currents.

Last weeks BOW featured our own local California Armina, Armina californica who also feeds on the sea pen,Renilla koellikeri. Other species of Armina , like the one shot by Carole Harris in Dubai feed on Dendronephthya soft corals. A closely related species, Dermatobranchus gonatophora feeds on the delicate white polyps of the orange finger coral, Eleutherobia grayi.

Catching both species out feeding in their full splendor is really exciting. Good work Mike.





Dave Behrens
Danville, Calif
Dec. 2003





---
Photo courtesy of Alan Grant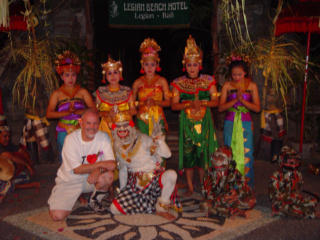 WEBMASTER'S NOTES:


Disappointed in the water conditions at Tulamben, Bali, Indonesia this October, Fred Bavendam, his girl friend Pat, and myself were commuting up to a place called Puri Jati somewhat west of Tulamben and about a 2 hour ride each way. The water conditions were much better with abundant subject matter. After the second dive in the afternoon one day, Fred indicated Arminid activity in the area off to the left where we were diving, so my third dive was predicated on finding one. As luck would have it, the above animal was encountered coming back to shore after fruitlessly looking for an hour! Everyone deserves a break every now and then, even underwater photographers!

Image taken with a Olympus 750 UZ in a PT-018 housing. Manual settings of 1/60 second and aperture F8 with spot focus were employed. Lightning was accomplished with an Eopque video light and DS-150 slave strobe.
Bob Bolland, Webmaster of the Okinawa Slug Site sent me a URL for a site discussion of underwater digital photography which I found very interesting! If you have a couple of minutes and are interested in going digital, I would recommend taking the time to read it!
---
Taxonomic information courtesy of:



---
© The Slug Site, Michael D. Miller 2003. All Rights Reserved.

---