Armina sp.

Photo courtesy of Carole Harris and Leon Betts

---
Armina sp.

We here we go again, another unidentifiable Armina from Dubai. This photo by Carole Harris and Leon Betts provides, not only another amazing critter from the waters of the western Indian Ocean, but an interesting testimony to the ecology of this species. Here we see an invariable feeding frenzy being carried out on a dendronephthid soft coral. This soft coral colony has at least 4 individuals feeding in unison. In a previous Branch of the Week column, on Armina cygnea , I sighted Bill Rudman, saying that in Australia, Armina hide by day and feed at night on Sea Pens, a completely different octocoral. Here is another example of Armina breaking the rules, feeding on a soft coral.
I am unable to identify this species which is basically white with low white dorsal ridges emanating from the rhinophoral groove. There is tan pigment over the dorsum, between the ridges, and a series of blue spots and marks at the notal margin.
As in the past, anyone knowing the identification of this creature, please let me know.


Dave Behrens
Danville, Calif
Jun. 2001


---
Carole and Leon live in the United Arab Emirates and have been diving for over 13 years. One of Carole's favourite photography subject is nudibranchs, because as she says, she is almost guaranteed to get a fairly decent shot! Living in the UAE has proved to be a most diverse and unexpected smorgasboard of offerings from a wide range of unusual nudis to robust ghostpipefish, pipehorse, pygmy sea moths, hammerheads, and recently a pygmy sperm whale.

Carole has recently published a UAE dive guide book "UAE Underwater Explorer" with another diver which was published in May 2001. It includes details of the most dived locations, with all the colour photographs supplied by Carole, dive-site maps, GPS bearings, etc.

She is also a very active member in the Emirates Environmental Group, promoting underwater awareness to its members and the public alike and has struck up a friendship with a reporter who shares the same environmental eagerness and helps to highlight these matters in the local newspapers.

Send Carol and Leon email at caroleeharris@hotmail.com
---
Taxonomic information courtesy of Dave Behrens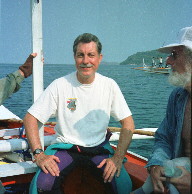 David W. Behrens
Author: Pacific Coast Nudibranchs
Co-A