Dendrodoris tuberculosa
---
Dendrodoris tuberculosa (Quoy & Gaimaird, 1832)
Family Dendrodorididae


This amazing slug resembles a lady's flower hat of the last century. Rosette-like nodules in various subtle hues cover its rounded back. (Sometimes, however, the color is almost uniform.) On Oahu it occurs on exposed rocky, sponge-covered cliffs, and is most active at night. I found this one at Makua of the west side of Oahu at a depth of about 10 ft. (3.3 m.). I had just run out of film. No problem. I collected it, kept it at home for a week in a tub of seawater, and took it for a photo session the following weekend at Pupukea, on Oahu's north shore in similar habitat, where I let it go. Bertsch and Johnson in their book Hawaiian nudibranchs report that this slug secretes a substance irritating to human eyes. It grows to about 6 in. (15 cm.) and has an Indo-Pacific distribution. A photo of a juvenile taken by Jerry Kane at Pupukea at about 30 ft. is also included.

Webmaster's Note:
We occasionally see this animal on night dives in the Philippines. For a different, but somewhat less dramatic perspective of the animal, see Dendrodoris tuberculosa.
---
Photo and Text courtesy of John Hoover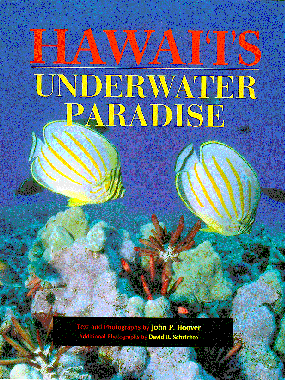 Author/photographer John P. Hoover lives in Honolulu. He has published two books on marine life of the Hawaiian Islands and is working on his third, a field guide to the marine invertebrates of Hawaii covering over 500 species.

Hawaii's Fishes, a Guide for Snorkelers, Divers and Aquarists Mutual Publishing, 1993

Hawaii's Underwater Paradise, Mutual Publishing, 1997

Send John E-Mail at hoover@hml.org

---
© The Slug Site, Michael D. Miller 1998. All Rights Reserved.






---