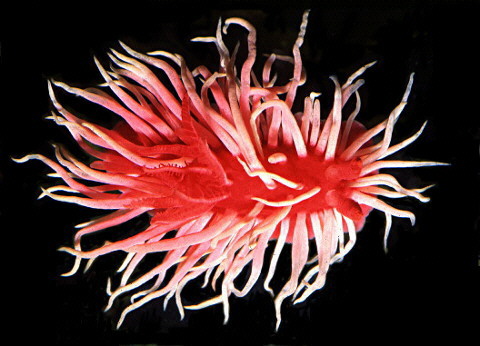 Hopkinsia rosacea
---
Hopkinsia rosacea MacFarland, 1905
Hopkins' Rose
Hopkinsia rosacea is one of California's truly beautiful nudibranchs. Described by Dr. Frank Mace MacFarland in 1905, the genus was named after after Timothy Hopkins the founder of Stanford Universities Hopkin's Marine Station, in Monterey where MacFarland conducted his research. The specific name rosacea relates to the brilliant rose color of this species.
This species is often mistaken for an aeolid nudibranch because of the tall slender papillae on the notum, which hide the branchial plume. The entire animal is rose pink, however the rhinophores and gills are usually darker pink to red. This species feeds on the rose-colored bryozoan, Eurystomella. It ranges from Coos Bay, Oregon to Isla San Martin, Baja California, Mexico. It is common intertidally to moderate depths.

Webmaster's Note: I recently received (5/25/99) a photo from Alan Grant (aka the diving dentist) of Laguna Beach California depicting the animal with egg mass on a known food source, the bryozoan Eurstomella.
---

The above information courtesy of:

---
© The Slug Site, Michael D. Miller 1999. All Rights Reserved.






---