Hermissenda crassicornis at left taken at Keystone Jetty, Whidbey Island, Washington. Photo courtesy of Tracy Clark

Hermissenda opalescens at right with egg mass taken at La Jolla Shores, San Diego, Calif. Photo courtesy of Tracy Clark

Hermissenda in the news
Will surprises ever cease? One of the most common nudibranch species on the west coast of the US and Canada now has two names.
What for years we have called Hermissenda crassicornis has now been determined to be a species complex of two genetically distinct species, easily separated by their coloration. Recently published in PLOS ONE - "The Model Organism Hermissenda crassicornis is a Species Complex", authored by Tabitha Lindsay and Angel Valdes shows that the two color variations, which overlap greatly in their geographic ranges are separate species.
After explaining the systematic differences between the two specie, the authors suggest using the names originally given to the two variations when they were first described - Hermissenda crassicornis for the more northern species (described by Eschscholtz from Alaska) with white to orange lines going the length of the cerata and Hermissenda opalescens for the more southern variation (described by Cooper from San Diego) with an orange subapical band on the cerata and no line.
As this news broke a number of us questioned whether the coloration was a valid discriminator, as we were aware of intermediate variations. Angel and Tabitha have agreed to sequence individuals from throughout the range, particularly specimens that don't fit the strict color definition. So the push is on. Colleagues up and down the coast are out hunting for Hermi's that don't follow the rules.
I want to thank underwater photographer Tracy Clark for helping us unravel this mystery!
Dave Behrens
Sammamish, WA 98074
May., 2016
Send Dave email at davidwbehrens@gmail.com

---
Tracy Clark at Keystone Jetty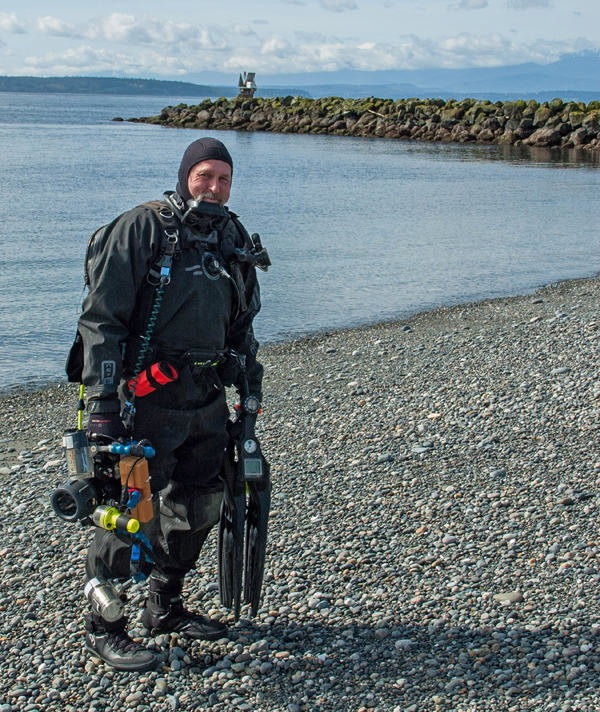 Tracy Clark was certified in 1986, a month after being certified he rented a underwatercamera in Hawaii and was hooked. Tracy worked as a Public Works Lead Worker in the San Diego area until retirement a few years back . He now dives mostly in the Seattle areas, plus a few trips to Hawaii. At the time Tracy lived in San Diego, he placed in the PCUPC photo contest, and also the San Diego Unions Nature and Eye photo contest. He has had photos published in the Pacific Diver magazine, Espacio Profundo, and also Helmut Debelius's Nudibranchs of the World. Tracy was San Diego Underwater Photographic Society (SDUPS) Photographer of the Year in 1999 and and again last year in 2008!

Tracy and his wife Debbie now reside in the N/W area of Washington State. But as you can see the relocation has not diminished Tracy's desire record the underwater wonders of Mother Nature!

Tracy as you all know has been a prolific contributor to the Slug Site through the years! I really can't say enough about Tracy! Tracy's images may yet be the causation factor for the Webmaster to go back from video to still photography!

Tracy's underwater photography equipment includes a Nikon D-200, Sea & Sea housing, 60mm lens and 1.4 teleconverter and two YS-90 strobes.

Send Tracy email at h2opics@gmail.com

---
From left to right, Terry Gosliner, Angle Valdes, Dave Behrens La Jolla, Calif. Send Dave email at davidwbehrens@gmail.com

---
© The Slug Site, Michael D. Miller 2016. All Rights Reserved.

---