Cavolinia uncinata
Image courtesy of Fabien Michenet
Photo taken in French Polynesian waters


Cavolinia uncinata (d'Orbigny, 1834)
This week we venture far off the bottom in search of strange gelatinous sea slugs living in the water column - the Pteropods. We do this as a teaser of what is to be one of many new topics expected in the NEW - Nudibranchs and Sea Slugs - Indo-Pacific being published by New World Publications. We'll let you know when it is available this fall.
This is a group of pelagic opisthobranchs having heavily modified bodies, adapted to life in the water column. Molecular studies suggest pteropods are closely related to cephalaspideans and sea hares. In the new book we will include a few examples of Indo-Pacific pteropods to show their morphological diversity. Co-author Angel Valdes states that "the taxonomy of Pteropoda needs a substantial amount of revisionary work; some species appear to constitute complexes of several species with restricted ranges, whereas other species have broad ranges including several oceans." More information on Angel's message can be found in - Species Diversity of Planktonic Gastropods .
Cavolinia uncinata is cosmopolitan and measures up to 8 mm in length. The body is transparent and the shell globose, having three triangular posterior spines, the central one larger than the two elongate lateral ones. Indo-Pacific animals are genetically distinct from the Atlantic and likely constitute a different species.
This species feeds on phytoplankton in the epipelagic.
Dave Behrens
Sammamish, WA 98074
Jan., 2015
Send Dave email at davidwbehrens@gmail.com

---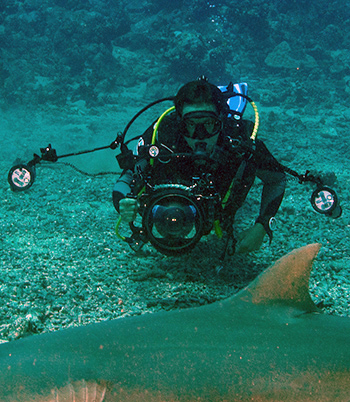 Fabien has lived in French Polynesia for the past six years. His pictures of the rich marine wildlife embrace everything from the smallest animals on the reef to sharks and whales. He has recently made a number of night-dives in pelagic waters off the coast of Tahiti (about 7000 feet deep) to document the diversity of animals, such as pteropods, that migrate up from the deep by night.

Fabien uses a Nikon D800 in a Nauticam housing with two Z240 Inon Strobes and a Nikon 105mm or 60mm macro lens (and sometimes with a magnification lens) for his nudibranch photography.

Send Fabien email at fmichenet@yahoo.fr

---
© The Slug Site, Michael D. Miller 2015. All Rights Reserved.

---