e
Melibe colemani
Branch of the Year 2013
Image courtesy of Martin Buschenreithner
Dive Site Wainilu, Rinca, Indonesia


Mating Melibe colemani with egg mass.
Large one about 5 cm, smaller brown one about 3 cm
You do see them don't you?
The holiday season is a great time to reflect upon past events of 2013 and what we might expect in 2014. In this spirit I was thinking that if Time magazine can have a "Person of the Year" as it is more politically correct to say nowdays, why can't the Branch World have a "Branch of the Year?" No sooner said then done and it was an easy decision. This guy was run before in BOW 804 in a commemorative to Neville Coleman who first brought this bizarre branch to our attention. You may want to go back to BOW 814 to read how Neville was able to find his namesake in the first place!

In December of last year, Martin and Sonja Buschenreithner of Austria sent me several first ever images of Melibe colemani mating and laying an egg mass ! Looking at the mating pics reminded me of a bowl of spaghetti that somehow found it's way into the ocean! How Martin and Sonja were able to discern what was going on is beyond me! I have always wanted to put their Melibe colemani images up and what better time than now, especially after returning from the Komodos in Sept. with video of it!

Seeing Melibe colemani for the first time was like a dream come true. Only branchers will understand this feeling. I signed up for the second half of Graham Abbott's Critters Trip to Komodos and South Rinca in September for the express purpose of seeing this M. colmani and lo and behold the unthinkable happened. Graham actually found it! The conditions were so abysmal at this site that after the first dive with no success, most of the other divers opted to go to another spot for their second dive. Lindsey Warren and myself persisted and went in again with Graham. Vizability was about 15 feet or less! This time we hit gold with Graham finding not only M. colemani but another Melibe that was featured in BOW (814) and incidentally was also made possible with photos from Martin and Sonja!


Once again and I have said it before, we cannot restrict what we may or may not see in the ocean realm by preconceived notions. If our mind is to process what is being seen in M. colemani and there is already a mental block there saying this is not possible, then we will not see it!

Last but not least for sure, I would like to thank Graham Abbott of Diving4images for making the trip an unqualified success despite mechanical problems with the boat(which seems to be symptomatic with boats in that area)! I don't often go out on the plank with these kind of recommendations but Graham deserves it! I should have realized his talents in the water a long time ago when he dropped in on one of trips to the PI and found a undescribed baeolidia that I had been looking for some time. This recommendation is being made with no monetary or other compensation whatsoever!

What more can be said? I want to wish all you branchers a Happy New Year and may Santa put all kinds of new branchs in your xmas sock for 2014!



Michael Miller
Webmaster
Dec., 2013
Send Mike email at mdmiller@cts.com


Martin and Sonja at the Taj Mahal, Agra, India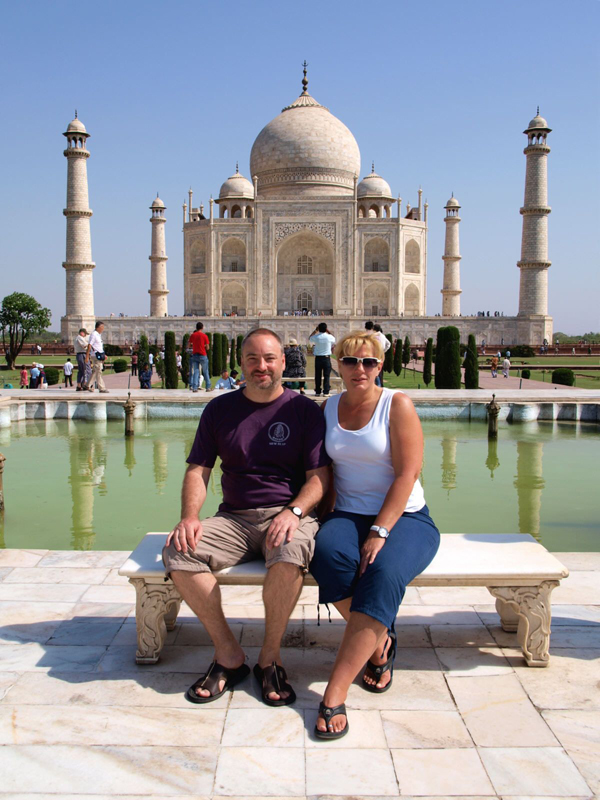 My wife Sonja and I live in Mautern - Austria.

We dive for over 20 years around the world, but mainly in tropical waters as in the Indo-Pacific. We love diving, like any big fish, especially sharks but our heart belongs to the colorful small animals such as nudibranchs, from which we until now about 500 in 1500 shared dives could find. I photograph the moment with Olympus E-520 and Sea & Sea YS 110 flashes. In my collection are now more than 100,000 photos. www.martin-busch.magix.net

Send Martin email at mabusch@gmx.at


WEBMASTER'S NOTES : Martin and Sonja are long time contributors to the Slug Site. As in many husband and wife teams, I suspect as Martin suggests, it is Sonja that finds the many nudibranchs that have found their way to presentation on the Site. Martin's skills as a photographer are unsurpassed! A couple of years ago in Bali, I had the good fortune to run into Martin and Sonja at Dive Paradise in the Tulamben area. After dinner Martin showed fellow divers his images taken that day! These were all unedited images, but nevertheless, I didn't see any that I would throw away. Martin certainly knows his system and how to get the best results out of it! What more can be said?

Martin has added three excellent shows from Bali, Alor and more recently South Australia to his website that are certainly worthy of your attention. How Martin was able to get some of these photos is beyond me!
---
© The Slug Site, Michael D. Miller 2013. All Rights Reserved.

---