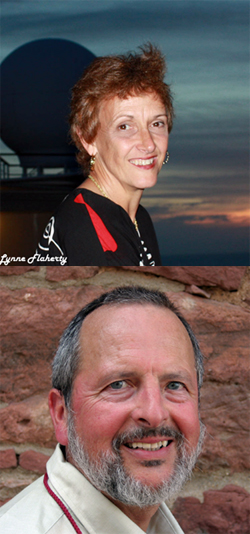 My husband, Peter Rothschild, and I were diving with a third friend, doing a fun dive around our local mudhole training site. Peter and I together probably have almost 1000 dives at this one place, and know the critters there pretty well. On this dive, I saw a nudibranch that looked distinctly unfamiliar, so I dropped down to take some pictures of it. Unknown to me, Peter had found a second individual, and was photographing that one. When we got home and looked it up, I wasn't sure which Cuthona species it was, so I put the pictures up on our local dive forum, and Richard Zade sent them to Dave, who confirmed that this was, in fact, Cuthona cocoachroma . It's an amazing find because I have not only never seen this animal before, I've never seen any kind of Cuthona at all at this site!
We were both using Olympus EPL-1 cameras with the Olympus housing, and Inon D2000 strobes.
Peter learned to dive in 1967, but had a long surface interval, and got recertified with me in 2005. Since then, we've logged a couple thousand dives around the world, but primarily in Puget Sound and the Pacific Northwest. We're both avid cave divers and dabble in tech diving, but our primary love is critters, and particularly taking photographs of them, and we are both slug junkies!
Send Lynn email at Lynne@tsandm.com