Dermatobranchus cf. striatus
Angthong Marine Park, Surat Thani Province, Thailand
Photo courtesy of Lawrence Neal
Depth 10 meters

Dermatobranchus cf. striatus (van Hasselt, 1824)

Dermatobranchus striatus, type species of the genus Dermatobranchus, was originally described long ago in 1824 by the Dutch naturalist J C van Hasselt following his short-lived expedition to Java. Dr. Kikutaro Baba subsequently reviewed the species in 1992 based on specimens collected in Japan.
Is the nudibranch pictured here Dermatobranchus striatus or a completely different species? Possibly a color variant of Dermatobranchus albus (Bill Rudman's Sea Slug Forum)? Tough to answer without a detailed anatomical inspection. Many characteristics tie in with the scientific description; oral veil with semi-circular white markings and a yellow margin, yellow-tipped rhinophores, longitudinal white or yellowish lines, etc. But compared with existing published photographs from Indonesia, Japan and the Philippines, it has some dissimilarities too.
This Arminid nudibranch is locally common in the Gulf of Thailand and often found in large numbers in areas where its prey is present, a mat-forming octocoral of the genus Briareum. The relatively large size of the eggs and small egg masses perhaps indicate that juveniles develop directly from the egg without any planktonic stage.
Interestingly, another similar but apparently distinct species is present in the Andaman Sea off Western Thailand, which although only 44 km away from the Gulf of Thailand as the crow flies, is several thousand kilometers away by sea, around the Malay Peninsula and in another ocean. This species, probably Dermatobranchus albus, is similar in size, shape and habit to the species pictured above and feeds on a similar (but slightly different) species of stoloniferous octocoral, but is generally 'cleaner' looking and has a pure white oral veil with no black markings.
Lawrence Neal
Bangkok, Thailand
Sept. 2012

---
Lawrence at Tulamben, Bali, Indonesia with
Agung Volcano in background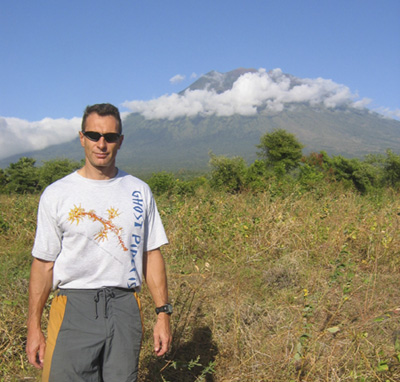 Lawrence is a newspaper journalist based in Bangkok, Thailand. He escapes the office as often as he can to go diving in the rich waters of the Indo-Pacific but his regular dive sites are just down the road along the Gulf of Thailand and the Andaman Sea coast. Lawrence uses a Nikon D200 with a 60-mm or 105-mm macro lens in a Nexus housing together with a pair of Inon Z240 strobes and several wet lenses for the really small stuff.

Send Lawrence mail at lorenzo_n@yahoo.com

---
© The Slug Site, Michael D. Miller 2012. All Rights Reserved.

---