Facelina sp. 3
Bottom image courtesy of Marcel Tanke
Anilao, Batangas, Philippines

Facelina sp. 3 Undescribed

This undescribed Facelinid is presented at the top of page 375 in Indo-Pacific Nudibranchs. We don't really know much about it, as it has only been observed in the Philippines.
The body is translucent with white spots. The cerata are orange to read with scattered white spots and a white apex. The foot is wide, transparent and also covered with white spots.
The rhinophores are orange basally with an opaque white apex. The oral tentacles vary from clear to orange with white spots and a white apex.
I guess we can call this guy the "white spotted Facelina" until it gets an official scientific moniker.


Dave Behrens
Gig Harbor, Washington
Aug., 2012

---
Marcel and wife Marion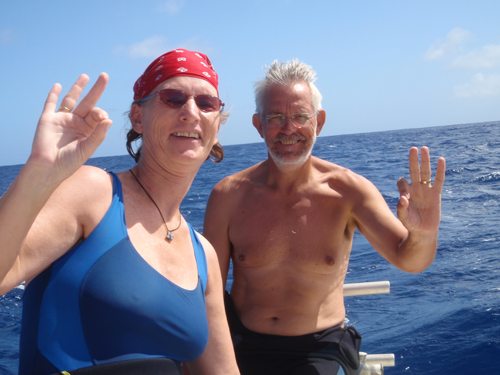 Marcel and Marion presently again live in their native country, the Netherlands. They started diving during the 14 years that they lived in China and Korea. Marcel has BSAC Instructor diving level. Diving took them pretty much all over Asia and many other places. Nudibranchs became their main interest after several trips to the Philippines and Indonesia. Marion is "spotter" for the nudibranchs and Marcel is taking the pictures.

Marcel is still using a "point and click" digital camera, (see http://slugsite.us/bow2007/nudwk586.htm ) , but upgraded to a Canon S95.

This was our 7th trip to the Anilao area of the Phillipines. In 8 dive days, 32 dives, Marion and I saw and have pictures of 170 (one hundred and seventy) different sea slugs, of which 140 different true nudibranchs! Indeed, Anilao is the nudibranchs capital of the world!

Send Marcel email at marceltanke@cs.com
---
From left to right, Terry Gosliner, Angel Valdes, Dave Behrens La Jolla, Calif. Send Dave email at dave@seachallengers.com


© The Slug Site, Michael D. Miller 2012. All Rights Reserved.

---