Cumanotus sp.


Photo courtesy of Gayle Van Leer
La Jolla Shores, San Diego, Calif
Copyright 2011

Cumanotus sp. (at this time identification undetermined)

Gayle's fabulous photo has motivated Michael and me to run this species as our "Nudibranch of the Week" again. Seasonally, extremely abundant in southern California, we are waiting on Sandra Millen to straighten us out on the species accurate identification. I simply call it Cumanotus here, until that paper is published. Gayle's photo clearly shows the twisted, branching liver diverticulum in the cerata. This fascinating anatomy allows both respiration and digestion of food for this species. Its favorite food can also be seen in the photo - a species of tubularid hydroid. The immature, defensive, stinging cells (nematocysts) found within the hydroids polyps pass unfired through the nudibranchs digestive system, eventually ending up in the tips of the cerata, where they mature and are ready to defend the slug, in an organ called the nidoblast. These are the white areas at the tip of each cerata. This species is known to occur in the Vancouver, BC area and in southern California.
Gorgeous shot Gayle!
Dave Behrens
Gig Harbor, Washington
Jan., 2011
WEBMASTER'S NOTES : Gayle's image placed third in the November SDUPS Novice divsion where it first came to my attention. I think most of you will agree that Gayle's pic clearly goes beyond being novice/amateur or even third place! In my humble opinion, most of the audience probably didn't realize what they were looking at! John Moore, the Webmaster of San Diego based DiveBums thought enough of the image to include it as the April selection in his 2011 DiveBums Calendar. Folks, you really should see this image on the big screen if you think it looks good on your computer monitor!
For those of you who would like to order the calendar and I understand John still has a few copies left, I would jump on it! At $20 and change, it's a real bargin given the quality of the photos submitted!
Email John at johnmoore@divebums.com

---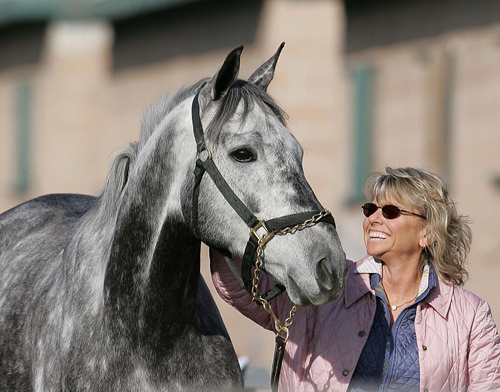 A native Californian growing up in the Santa Barbara area, horses and the ocean were a passion from an early age for Gayle who currently is a consultant in the thoroughbred horse racing industry. As a child, when not playing in the surf and exploring tide pools, she was riding horses, sometimes on the beach.

A diver for nearly 20 years racking up 600 dives while on the road exploring some of the world's well known, and not so well know oceans, three years ago after purchasing a dry suit she became instantly hooked on diving in her local Southern California waters and is now quickly closing in on dive number 1,000.

Always an avid photographer, when photography went digital she started taking a simple point and shoot camera on every dive, and still shoots with one today. Their ability to capture great macro shots perked her interest in learning more about the smaller creatures of the seas and a Zen for nudibranchs developed from there.

Now living in Del Mar California she is fortunate to be in an area where she can thoroughly enjoy her dual passions of horse racing and diving.

Send Gayle email at info@gaylevanleer.com

---
From left to right, Terry Gosliner, Angel Valdes, Dave Behrens La Jolla, Calif.

Send Dave email at DavidWBehrens@gmail.com

---
© The Slug Site, Michael D. Miller 2011. All Rights Reserved.

---