Stiliger fuscovittatus
Marine Room, La Jolla, Calif
Photo courtesy of Scott McGee
Copyright 2010



Stiliger fuscovittatus Lance 1962
This tiny nudibranch is often thought to be an aeolid, because of the ceratal-like appendages. It, in fact, is a sap sucking sea slug, or a Sacoglossan. We can determine this externally by the rhinophores, which are simple and rolled. Internally, its radula is characteristic, being a series of single rachidian teeth, which when worn, fall into a sack in the throat, hence the name - Saco (sack) glossa (throat). A sea slug dentist would love the dental history stored there. Like most sacoglossids, Stiliger feeds on the red filamentous algae, Polysiphonia, seen here in Scott's photo.
The geographic range of this species is from Ketchikan, Alaska to the Gulf of California. This tiny species only reaches about 15 mm in length. Good eyes, Scott. Jim Lance gave the species the name "fuscovittatus" for the red-brown streaks on the body and cerata.


Dave Behrens
Gig Harbor, Washington
Oct., 2010

---
Scott on location at La Jolla Shores, San Diego, Calif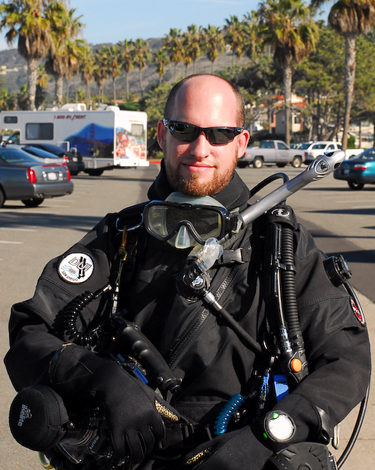 Scott Mcgee is an underwater and nature photographer living in beautiful Carlsbad, CA. He loves shooting all things related to the ocean and beaches. On the side, he has a (full time) job as a computer systems architect. Scott was first scuba certified at 12 years old, but only dove occasionally until 20 years later, when in 2006 he started diving regularly. He started with an underwater housing for a Canon point-n-shoot camera and has been addicted to underwater photography ever since. In 2007, he upgraded to a DSLR and underwater housing. Scott usually dives every weekend locally in San Diego or Laguna Beach and occasionally somewhere more exotic.

His photos have been featured in California Diver magazine, California Diving News, reef.org, sdcoastkeeper.org and the San Diego Divebums calendars. He also helps out with the sevengillsharksightings.org project.

Scott's photo site is at underpressurephoto.com .

Also

underpressurephoto.blogspot.com
twitter.com/sfmphotog

Send Scott email at sfmphotog@gmail.com


Camera Setup:


Nikon D200 w/ Ikelite housing
Nikon 60mm lens at f/18 for 1/200s
2 x DS-125 strobes

WEBMASTER'S NOTES: Terry Strait's assistance in getting this unusal find steered in our (Dave and I) direction is greatly appreciated!
---
© The Slug Site, Michael D. Miller 2010. All Rights Reserved.

---