Tambja gabriela

Photo courtesy of Scott Gietler
Anilao, Batangas, Philippines
Oct., 2008

Tambja gabrielae , Pola, Cervera,& Gosliner, 2005

The last time we ran this awesome species it was known simply as Tambja sp. with a photo taken by Steve Drogin. Well it has now been described, and named after the senior author's niece. This represents just one of hundreds of new names you will find in the new Indo-Pacific Nudibranchs and Sea Slugs book.
Like so many other species given a "patronym" (named after a person), there always seems to be an interesting story behind the naming. Tambja gabrielae is no different.
We have had specimens of this species for years, but it was not until Marta Pola decided to write her thesis on the members of the Nembrothinae Burn, 1967, did a dozen or so new species of Nembrotha, Tambja and Roboastra get described. When the time came to give the species official new names, Marta wrote me and asked if there was any person that Terry Gosliner and I had in mind to be recognized in the naming. I replied that we did, but somehow my reply was lost. If Terry and I had ever gotten around to describing the species ourselves, we planned to name the species after dear friend Jim Black , who we believed was the first to photograph and record the species.
Well obviously that didn't happen. The following year, Marta made amends by naming another new Tambja , after Jim. So there is now a Tambja blacki , just not the species Terry and I intended.
The really SPECIAL part of this story is that when we saw Jim recently at a SCUBA convention he told us that he was ecstatically pleased to have this species carrying his name, rather than the critter shown above. Why, we asked.
Jim's response – "well I was going through some old Kodachrome slides, taken many years ago when I first began diving and shooting, and was blown away to see that Tambja blacki , was the first nudibranch I had ever photographed." Marta, how did you know that? Spooky


Dave Behrens
Gig Harbor, Washington
Nov., 2008

---
Peri, Scott, Mike, and Kevin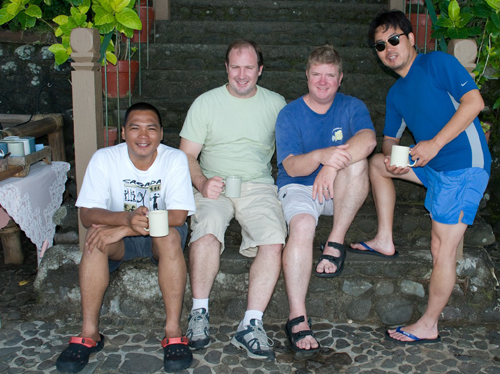 It was hard to return home after 11 days in nudibranch heaven in the Phillipines, known more formally as Anilao. Mike Bartick, Kevin Lee and myself had heard good things about Anilao, but we didn't know what to expect. Club Ocellaris supplied us with great food, nitrox, and a good night's sleep. The diving was much better than we could have imagined.

With the help of expert dive guide Peri Paleracio, 3 of us were able to photograph 100 species of nudibranchs during our trip. These species were found everywhere, from 0-130ft deep, in sand, muck, rock, corals and reef. I have no doubt many more species await us on our return trip.

Send Scott email at sgietler@yahoo.com

---
From left to right, Terry Gosliner, Angle Valdes, Dave Behrens La Jolla, Calif.
---
© The Slug Site, Michael D. Miller 2008. All Rights Reserved.

---