Hermissenda crassicornis laying egg mass on squid egg casings
La Jolla Shores, Calif
Photo courtesy of Tracy Clark




Hermissenda crassicornis (Eschscholtz, 1831))

While not always a yearly event, the gathering of squid at La Jolla Shores to spawn always brings forth a following of divers, naturalists, and of course underwater photographers. There is another lesser known event that always seems to coincide with the squid migration to the shores to spawn and that is the accompanying bloom of Hermissenda crassicornis . Years ago while diving with Steve Gardner at the shores, I was amazed to see H. crassicornis in the middle of a vast field of squid eggs. My first thought was that although H. crassicornis has a reputation for not being overly selective in what it eats, its presence in the squid spawn far afield from what could be considered traditional food sources suggested that H. crassicornis was in fact dining on the egg casings in some manner! The question always lingered in my mind and was again brought to the forefront recently by submissions from veteran shores diver Tracy Clark who actually photographed H. crassicornis laying its egg mass on the squid egg casings! A big question here as posed by Jeff Goddard is whether H. crassicornis is settling out of the plankton in reponse to the presence of the squid eggs or simply migrating to the eggs as developed adults? Is H. crassicornis capable of completeing a life cycle on the squid eggs? Its anybody's guess at the present time until more observations are made and data collected, but it would certainly seem to be a ready made thesis for a prospective sea slug graduate student to undertake!


Michael Miller
Webmaster
San Diego, Calif
April, 2007

---
Tracy Clark at La Jolla Shores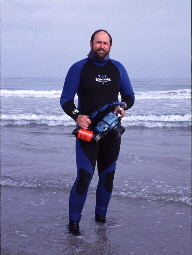 Tracy Clark was certified in 1986, a month after being certified he rented a underwatercamera in Hawaii and was hooked. Tracy is a Public Works Lead Worker . He dives mostly San Diego areas, plus a few trips to Hawaii. He has placed in the PCUPC photo contest, and also the San Diego Unions Nature and Eye photo contest. He has had photos published in the Pacific Diver magazine and also Espacio Profundo. Tracy was also SDUPS Photographer of the Year in 1999.

Picture was taken with a Nikon D-70, Sea & Sea housing, two YS-90 strobes.

You will find Tracy at La Jolla Shores almost every weekend and sometimes on Friday.

Send Tracy mail at tclark2399@sbcglobal.net

---
© The Slug Site, Michael D. Miller 2007. All Rights Reserved.

---