Unidentia sp.
Image courtesy of John and Lynette Flynn
Majuro atoll in the Marshall Islands

Image courtesy of John and Lynette Flynn





Unidentia sp. (undesribed)

The genus Unidentia was created for Unidentia angelvaldesi Millen and Hermosillo, 2012, a tropical Eastern Pacific Ocean species that looked like a Flabellina, but whose internal anatomy was quite different. The name Unidentia means one tooth, one of the most significant differences between it (having a uniseriate radula) and Flabellina (having a triseriate radula). Later Korshunova et al, 2017, added Unidentia sandramillenae from the Western Pacific Ocean, naming it after the coauthor of the genus.

Like the other members of the genus, the rhinophores are smooth, unlike Flabellina. They have two white and two reddish-brown bands. The cerata have an orange digestive gland with a white tip and a lateral purple spot midway down its length. There are two opaque white stripes down the dorsum. All in all - this is quite a beautiful creature.

John and Lynette Flynn found this guy in less than a meter of water on Majuro atoll in the Marshall Islands. Hope it will be named soon.
References:

Korshunova T, Martynov A, Bakken T, Evertsen J, Fletcher K, Mudianta WI, Saito H, Lundin K, Schrodl M, Picton B. (2017) Polyphyly of the traditional family Flabellinidae affects a major group of Nudibranchia: aeolidacean taxonomic reassessment with descriptions of several new families, genera, and species (Mollusca, Gastropoda). ZooKeys 717: 1-139. doi: 10.3897/zookeys.717.21885

Millen & Hermosillo, 2012 : Three new species of aeolid nudibranchs (Opisthobranchia) from the Pacific coast of Mexico, Panama, and the Indopacific, with a redescription and redesignation of a fourth species. The Veliger, vol. 51, no 3, p. 145-164.



Dave Behrens
Sammamish, WA 98074
May., 2021
Send Dave email at davidwbehrens@gmail.com


Webmasters Notes:

I would also like to thank Mark Strickland for taking the time to make the necessary contacts that made this BOW possible!

Thanks Mark!

Send Mark email at friendlyfish01@gmail.com

---
John and Lynette Flynn at the "clubhouse" of the Rongerik Yacht Club.
Rongerik is an uninhabited atoll in the Marshall Islands and to join the club you have to find some debris on the shore,
put your boat name on it, and hang it in the open air clubhouse.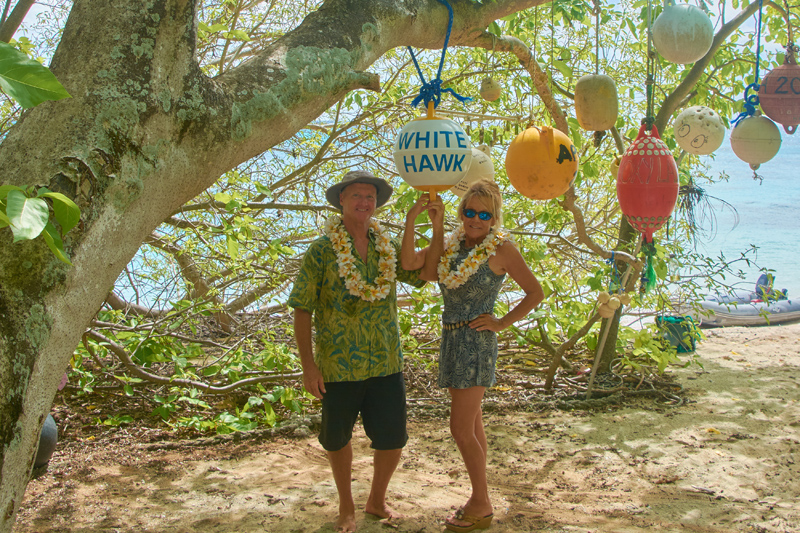 We are John & Lynette Flynn, full time live-aboard cruisers and free-dive photographers who sailed our 46' boat "White Hawk" out of San Diego in 2014 and have been cruising the Pacific ever since.

We are currently "stuck" in the Marshall Islands due to COVID border closures, but we have been enjoying our time here hunting Opisthobranchs in shallow water from 0.5 to 5 meters. We are currently shooting with Sony RX100V's in Nauticam housings with CMC-1 wet lenses and SOLA Video Pro lights.

Last year we photographed 51 species of Opisthobranch at Rongelap Atoll, and we are currently at 79 species of Opisthobranch photographed at Majuro Atoll, including our first-ever discovery of a previously unknown species, a new Unidentia. We still shoot other animals but we are now full-fledged "nudiholics." Our motto is: "If you don't go - you don't know. If you don't look - you don't see."

Send John and Lynette mail at svwhitehawk@yahoo.com

---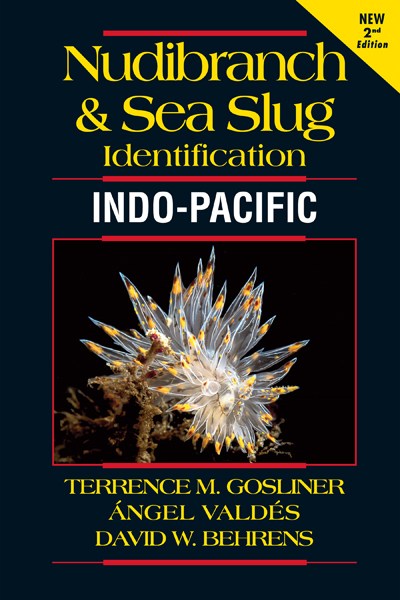 Attention all you Sluggers, and you know who you are!

The NSSI 2nd edition is now available in ebook PDF and book form . The hard back version will become available Nov. 1st. Both will cost $65 (individually).

You will need to jump through a few hoops to get the electronic version as pdf distribution is protected by Adobe ID!! Please read the following to enable reading your electronic purchase!

This new 2nd Edition is updated and reorganized, including 185 new species. Among other features, the new edition includes additional photographs of species, an identification key, and an up-to-date classification reflecting the latest evolutionary relationships. The Indo-Pacific represents the largest expanse of tropical ocean in the world, stretching from the Indian Ocean coast of southern Africa and the Red Sea to the central Pacific of the Hawaiian Islands, Easter Island and the Marquesas.

This region supports the most diverse marine fauna of any place in the world for most groups of marine organisms. The nudibranchs and sea slugs are no exception to this rule; there are about 3,000 described species of these organisms in the world and at least 40% of these have been found exclusively in the Indo-Pacific tropics. This book illustrates 2,138 Indo-Pacific nudibranchs and sea slugs, including many undescribed species.
---
From left to right, Terry Gosliner, Angel Valdes, Dave Behrens La Jolla, Calif. Send Dave email at davidwbehrens@gmail.com

---
© The Slug Site, Michael D. Miller 2021. All Rights Reserved.

---