Cerberilla cf. portiguara
Image courtesy of Ali Hermosillo McKowen
PNG


Photo courtesy of Ali Hermosillo McKowen
Komodos, Indonesia

Cerberilla cf. portiguara Padula & Delgado, 2010

Every time I hear of geographical yet physically identical tropical Eastern Atlantic - Indo-Pacific species like this I just cringe. While they sure as heck look alike, only a couple of genetic studies have been done to verify if species from opposite sides of the earth might be identical.

Let's start by looking at those we know about. Anne DuPont has documented what looks identical to Micromela undatus in Florida. She has also recorded what looks like Plocamopherus tilesii on two separate occasions, two years apart.

Fellow Brancher Hans Bertsch tells me - "Recent DNA studies suggest that the Indo-Pacific species Petalifera petalifera and Dolabrifera dolabrifera (Both links courtesy of Bill Rudman's Sea Slug Forum) no longer occur in the eastern Pacific nor western Atlantic. However, Bursatella leachii DOES have an Indo-Pacific and Caribbean distribution (see Bazzicalupo et al.). Umbraculum umbraculum has also been reported from both provinces---but no studies have confirmed or denied that."

Cerberilla portiguara was originally described from specimens collected from Brazil. Ali Hermosillo McKowen has seen and photographed a similar subject both in Indonesia and PNG. She tentatively identified it as Cerberilla cf. portiguara. Comparing Ali's photos to Anne's taken in Florida and believed to be Cerberilla portiguara, it certainly makes one wonder. There are subtle differences on color markings, but these could easily be simply variation, unless you are a splitter. I am not.
Are the markings on the head different enough to say these are distinct species? Compare these photos to ours of Cerberilla sp. 4 and C. sp. 6 in NSSI 2nd Edition.
For me the jury is still out, but it certainly raises an interesting research topic. Thanks to Anne, Ali and Hans for their inputs.
Reference(s):
Bazzicalupo, E., F. Crocetta, A.L. Kaala Estores-Pacheco, H. Golestani, H. Bazairi, S. Giacobbe, A Jaklin, D. Poursanidis, S. Chandran, J.L. Cervera & A. Valdes. 2018. Population genetics of Bursatella leachii (De Blainville, 1817) and implications for the origin of the Mediterranean population. Helgoland Marine Research 72: 19.
Padula V. & Delgado M. (2010) A new species of Cerberilla (Gastropoda: Nudibranchia: Aeolidiidae) from northeastern Brazil. The Nautilus 124(4): 175-180
Dave Behrens
Sammamish, WA 98074
Feb., 2021
Send Dave email at davidwbehrens@gmail.com

WEBMASTER'S NOTES:
The mystery as to who we are actually dealing with in this BOW perked the interest of David Cowdery, a frequent contributor to this site! David sent in an image which is similar in most respects to Ali's pics! Dave also observed that Ali's pics and his appear to more closely align with Cerbrilla sp. 4 in NSSI 2nd Edition. Without specimens on hand this puzzle probably won't be solved anytime in the near future as it's virtually impossible to collect in Indonesia. As Dave B. pointed out above, this quandry would definitely make an interesting research project for a graduate student with time on their hands should physical specimens ever become available!
---
Ali Hermosillo McKowen on location in the Philippines

Ali needs very little in the way of introduction to readers of this site. She has been featured in many of the Branch of the Week (BOW) presentations through the years. Diving with Ali can be infectious assuming you can keep up with her. If you didn't have an appreciation for our friends the sea slugs before diving with her, you will certainly reach quantum levels in that regard as Ali is all consuming in her quest to photograph and document their behavior! In the last few years she even acquired her Doctorate in Opistobrach Studies so her enthusiasm certainly knows no bounds. She has the material for putting together field guides for both the Milne Bay region of PNG and also Anilao in the Batangas area of the Philippines. Let's encourage her when time permits to make that happen!

As a side note Ali has posted ID's with her Flicker postings from both areas. The links can be seen in the left frame of this site. Very worth while to visit for those who are seeking to put names together with images.

What more can be said, Ali is the greatest!

Send Ali email at aliciahmckowen@gmail.com

Michael Miller
San Diego, Calif
Feb., 2021
Send Mike email at mdmiller1@cox.net

---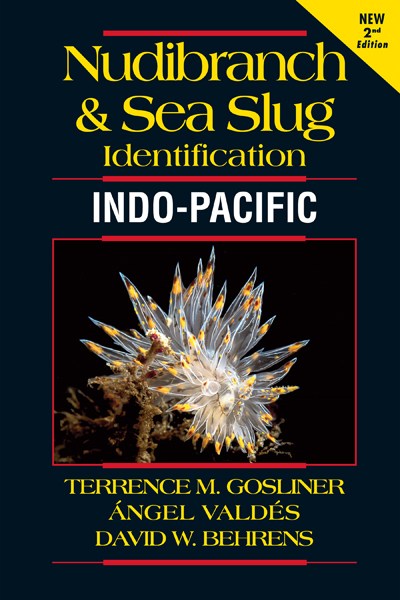 Attention all you Sluggers, and you know who you are!

The NSSI 2nd edition is now available in ebook PDF and book form . The hard back version will become available Nov. 1st. Both will cost $65 (individually).

You will need to jump through a few hoops to get the electronic version as pdf distribution is protected by Adobe ID!! Please read the following to enable reading your electronic purchase!

This new 2nd Edition is updated and reorganized, including 185 new species. Among other features, the new edition includes additional photographs of species, an identification key, and an up-to-date classification reflecting the latest evolutionary relationships. The Indo-Pacific represents the largest expanse of tropical ocean in the world, stretching from the Indian Ocean coast of southern Africa and the Red Sea to the central Pacific of the Hawaiian Islands, Easter Island and the Marquesas.

This region supports the most diverse marine fauna of any place in the world for most groups of marine organisms. The nudibranchs and sea slugs are no exception to this rule; there are about 3,000 described species of these organisms in the world and at least 40% of these have been found exclusively in the Indo-Pacific tropics. This book illustrates 2,138 Indo-Pacific nudibranchs and sea slugs, including many undescribed species.
From left to right, Terry Gosliner, Angel Valdes, Dave Behrens La Jolla, Calif. Send Dave email at davidwbehrens@gmail.com

---
© The Slug Site, Michael D. Miller 2021. All Rights Reserved.

---