Image courtesy of David Cowdery
Balanoi dive site in Anilao, Batangas, Philippines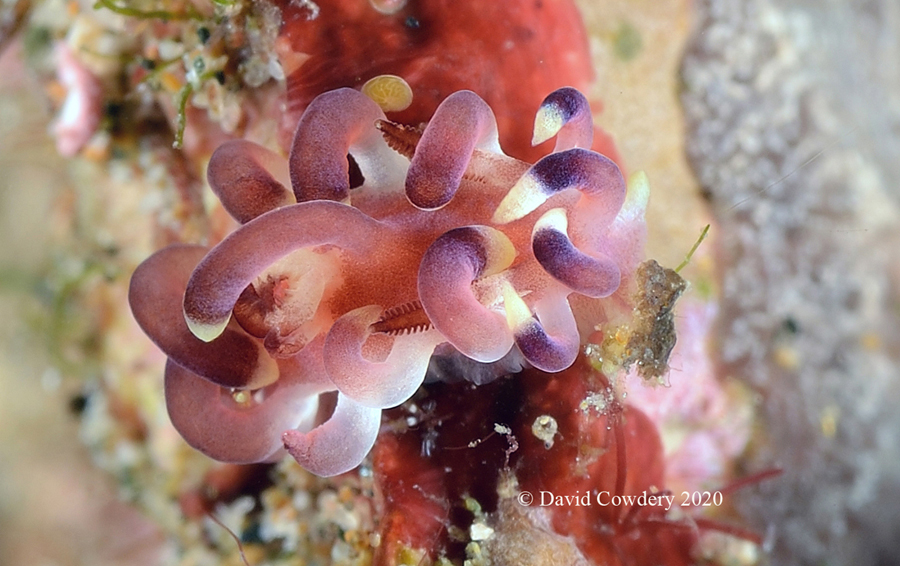 Okenia kendi Gosliner, 2004

This is a good example why identifying species from photos can be misleading. When David and Mike Miller originally sent this critter to me, Mike suggested Phyllodesmium magnum, feeling it was similar to the photo of a juvenile P. magnum, shown on page 316 of NSSI 2nd Edition. I had to agree at first as the colors did match David's photo. But then the truth revealed itself - it has a posterior dorsal gill. Ah ha - a dorid, not an aeolid, in fact an Okenia. This is a reasonable mistake made often with Okenia's, due to their lateral appendages which look like aeolid cerata.

Like so many species, juveniles often look quite different from adults. Look at the differences shown on page 316 of NSSI 2nd Edition - huge. They don't look like the same species at all. This is why when researchers like Terry Gosliner describe a new species they attempt to examine the internal morphology and conduct genetic sequencing on all sizes of critters. It was a real surprise when Terry learned that these two color forms were in fact the same species.

In this species, the key characteristic shared by both juvenile and adult is that the slender lateral appendages are white at the base turning to brown distally.

Don't let body parts like lateral appendages foul you. Look closer. You may be in the wrong clade. As it turns out, Bill Rudman had an opportunity to render an opinion on a similar specimen from East Timor back in 2008 and concluded at that time that color variation in Okenia kendi was a very real possibility!