Image courtesy of David Cowdery
Padar Island, Komodos, Indonesia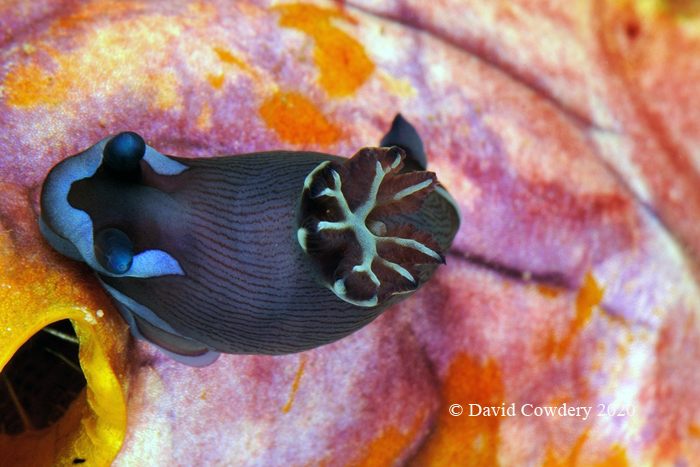 Tambja cf. morosa (Bergh, 1877)

Tambja morosa is an extremely common and variable species , but it always has a blue marking on the head and along the edge of the foot. Also the rhinophores are black with a greenish to bluish tip. David's specimen has these consistent markings, but it also has undocumented, interesting fine lines down the notum.

Due to its size, Terry Gosliner feels that this is a juvenile. David on the other hand is convinced it is a new undescribed species telling Mike and I - "if this is a juvenile Tambja morosa then why is it that in the huge number of images I have sighted of this COMMON species in various websites and on the internet, that no image I have ever seen looks remotely like my images. The chance of nobody ever sighting this COMMON species in the juvenile form seems entirely unlikely. I cannot reasonably doubt Terry Gosliner, but I am left with this conundrum. I have sighted many juvenile forms of COMMON species, but never one that looks so different to the adult like this one without any other photographer ever having captured a similar image. I leave you with this thought."

David may be right - but we will likely never know. Webmaster Mike responded to him with this - "Yes, I went through Bill Rudman's site to see if anyone has posted anything remotely similar to your images! Nothing even close relating to the fine lines seen on the notum! I have never seen it before in my travels! So yes, we have a conundrum on our hands! The gill structure of your submission is suggestive of Tambja morosa but there still remains lingering doubt (as least in my mind) as to what we are dealing with! Now, let's address why a definitive answer to your question may be a long time in coming! The problem is this; all the insitutional labs in California that work on these kinds of challenges are shut down due to the corona virus pandemic! Even when they open up again, there will be a serious backlog of similar examinations to be made!