Ardeadoris symmetrica
Image courtesy of Jim Anderson
Milne Bay, PNG


Ardeadoris symmetrica (Rudman, 1990)
The Chromodorid genus Ardeadoris is separated based on molecular evidence. This species was originally placed in Glossodoris, by Rudman (1990) but moved later to Ardeadoris, by Johnson & Gosliner (2012).
Like most Ardeadoris species, the edge of the mantle is highly undulating. The body is tan with a wide white marginal band and symmetrical white markings on the notum, leading to the species trivial name. The edge of the white marginal band is red, as are the rhinophores and gill.
Reaching about 45 mm in length, this species is common throughout the Indo-Pacific.
References:
Johnson R.F. & Gosliner T.M. 2012. Traditional taxonomic groupings mask evolutionary history: A molecular phylogeny and new classification of the chromodorid nudibranchs. PLoS ONE 7(4): e33479.
Rudman, W. B. 1990. The Chromodorididae (Opisthobranchia: Mollusca) of the Indo-West Pacific: further species of Glossodoris, Thorunna and the Chromodoris aureomarginata colour group. Zoological Journal of the Linnean Society. 100: 263-326.


Dave Behrens
Sammamish, WA 98074
Dec., 2019
Send Dave email at davidwbehrens@gmail.com

---
An architect who retired from practice in 2011, Jim Anderson is fascinated by the incredibly colourful world that lies just a short distance from the shore around the coast of his home in Scotland. He learned to dive there and very quickly discovered the diversity and extravagance of life that the grey sea does well to disguise. Photography started as a means of recording these sights - to try in some way to let others into this wonderful new world that was opening up.

He commenced diving in 1987 and has recorded over 4000 dives, over 2200 around Scotland, mostly with a camera in hand and has developed special skills in capturing images that have been widely published in national diving publications and identification guides. He is the proprietor of nudibranch.org the portal to his extensive nudibranch and other web sites covering his home country and the destinations he has visited in the Philippines, Indonesia, Maldives, Red Sea, Kenya, Ireland and in the Caribbean. He is a 1st Class Examiner with the Scottish Sub Aqua Club and delivers Nudibranch Identification courses on behalf of the UK Marine Conservation Society." Jim also has several e-book identification guides available at a very reasonable price! Check it out!

Send Jim mail at jander4454@gmail.com


WEBMASTER'S NOTES: Jim is going to be a co-host to a Nudi Workshop at Crystal Blue Resort in 2020! This is one workshop you do not want to miss! For further details, please see the flyer!
---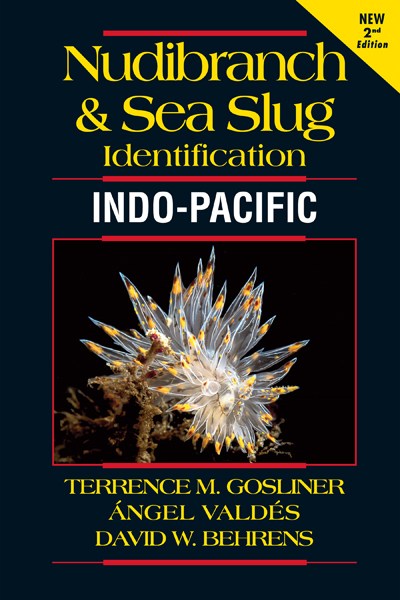 Attention all you Sluggers, and you know who you are!

The NSSI 2nd edition is now available in ebook PDF and book form . The hard back version will become available Nov. 1st. Both will cost $65 (individually).

You will need to jump through a few hoops to get the electronic version as pdf distribution is protected by Adobe ID!! Please read the following to enable reading your electronic purchase!

This new 2nd Edition is updated and reorganized, including 185 new species. Among other features, the new edition includes additional photographs of species, an identification key, and an up-to-date classification reflecting the latest evolutionary relationships. The Indo-Pacific represents the largest expanse of tropical ocean in the world, stretching from the Indian Ocean coast of southern Africa and the Red Sea to the central Pacific of the Hawaiian Islands, Easter Island and the Marquesas.

This region supports the most diverse marine fauna of any place in the world for most groups of marine organisms. The nudibranchs and sea slugs are no exception to this rule; there are about 3,000 described species of these organisms in the world and at least 40% of these have been found exclusively in the Indo-Pacific tropics. This book illustrates 2,138 Indo-Pacific nudibranchs and sea slugs, including many undescribed species.
---
4 From left to right, Terry Gosliner, Angel Valdes, Dave Behrens La Jolla, Calif. Send Dave email at davidwbehrens@gmail.com

---
© The Slug Site, Michael D. Miller 2019. All Rights Reserved.

---