Rubroameona rubescens
Image courtesy of Kevin Lee
Scotland




Rubroameona rubescens (Picton & Brown 1978
You guys are killing me - another freezing cold water species while I am sitting here in Sammamish, Washington freezing cold myself. To make matters worse this species identification is a conundrum.
To be honest with you I cannot really say if this is Rubroameona ameona (Alder & Hancock, 1845) or Rubroameona rubescens (Picton & Brown 1978), they are so similar, and ID's from photos can be miss-leading. With the complications Korshunova, Martynov, & Picton 2017 have made among the members of the Fionidae, I just can't say. But I guess I have to give it a try. OPK Opisthobranchs reports - All molecular analyses recovered Cuthona amoena and Cuthona rubescens in a separate clade Rubroamoena. Both species are apparently very similar, but you need to go to the original description of Cuthona rubescens by Picton & Brown, 1978 to determine the differences. What???
The genus Rubroamoena was described by Cella, Carmona, Ekimova, Chichvarkhin, Schepetov & Gosliner, 2016. The name is a combination of the two species assigned to this genus - rubescens and amoena. I guess they saw the similarities.
Bill Rudman states - "Although only easy to see in adults, one of the most characteristic features of this species is that the bases of the cerata are suffused with red. Streaks of white cover the dorsal surface of the cerata and towards the tip the white becomes more concentrated. The upper halves of the rhinophores are mostly white and there is a dark reddish band about midway. One other distinguishing feature is that the dorsal surface of the oral tentacles has a continuous band of white. Adults grow to about 18mm in length. It feeds on the common hydroid Halecium halecinum. A very similar looking species, Cuthona amoena, feeds on the same hydroid. It differs in (not) having a brown band in the middle of the oral tentacles." Are you kidding me, that's all?
Well this description agrees with Kevin's cold water critter here - so I guess we can go with it.
The species geographic range includes: British Isles, Scotland, Holland and Norway.
References:
Cella, Kristen, Leila Carmona, Irina Ekimova, Anton Chichvarkhin, Dimitry Schepetov & Terrence M. Gosliner. 2016. A Radical Solution: The Phylogeny of the Nudibranch Family Fionidae. PLoS One 11(12): e0167800. doi:10.1371/journal.pone.0167800.
Korshunova, T.; Martynov, A.; Picton, B. 2017. Ontogeny as an important part of integrative taxonomy in tergipedid aeolidaceans (Gastropoda: Nudibranchia) with a description of a genus and species from the Barents Sea. Zootaxa. 4324(1): 1., available online at https://doi.org/10.11646/zootaxa.4324.1.1
Picton, B. E.; Brown, G. H. 1978. A new species of Cuthona from the British Isles. Journal of Conchology. 29: 345-348. Rubramoena Cella, Carmona, Ekimova, Chichvarkhin, Schepetov & Gosliner, 2016
Dave Behrens
Sammamish, WA 98074
Nov. 2019
Send Dave email at davidwbehrens@gmail.com

---
Kevin Lee, Dave Behrens, and Christiane Waldrich
relaxing after a hard day of slug hunting at Villa Markisa Saraya, Bali,Indonesia!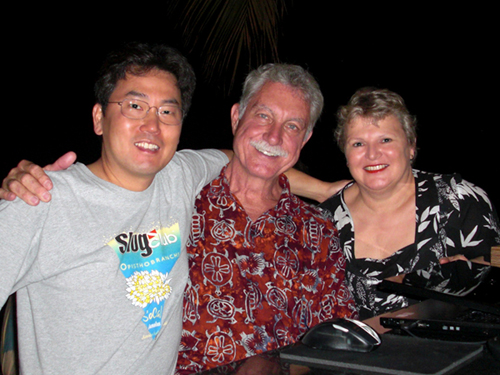 Kevin certainly needs no introduction to the Southern California Dive Community! On an international level you may have encountered Kevin as he certainly gets around on a life time quest to photograph the many treasures of the undersea world.

Based in Fullerton, California, Kevin Lee's adventure gene has taken him to over forty countries. After learning to scuba dive, in 2002, he embraced underwater photography as a way of sharing the ocean's wonders with non-divers. Though aesthetics is important in his photography, Kevin also strives to capture unique perspectives that are of interest to marine biologists and other scientists who study ocean creatures and their anatomy/phylogeny.

Though Kevin photographs all marine life that fits in his macro lens, opisthobranchs are his favorite subject. He has photographed and collected invertebrate specimens, with proper permitting, all around the world for scientific research. These pursuits have taken him scuba diving in all Seven Continents, including Antarctica where water temperatures were 29F (-2C).

Kevin's work can be seen in the Leatherby Libraries, Chapman University, Orange, California, where his opisthobranch images are on permanent display. Other works have been exhibited at the Branford House, University of Connecticut; Scripps Institution of Oceanography; Monterey Bay Aquarium; Aquarium of the Pacific, Long Beach; City of Los Angeles (ELC); and other venues. And of course, Kevin continues to contribute marine images for numerous magazines, newspapers, academic literature and many dive related publications.

To view more of Kevin's photography, visit diverkevin.com

Send Kevin email at diverkevin@gmail.com

---
From left to right, Terry Gosliner, Angel Valdes, Dave Behrens La Jolla, Calif. Send Dave email at davidwbehrens@gmail.com

---
© The Slug Site, Michael D. Miller 2019. All Rights Reserved.

---