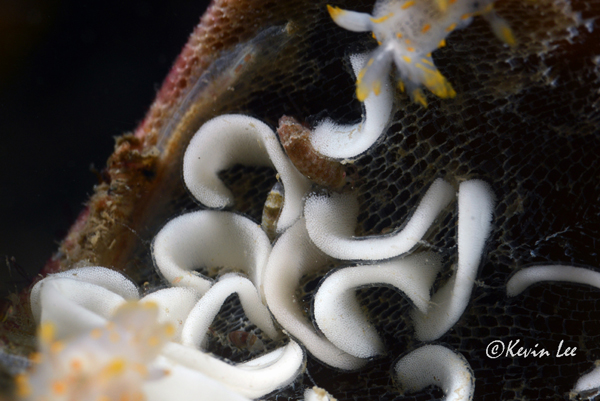 WEBMASTER'S NOTES: Kevin's adventures remind me of the "energizer bunny!" He's no sooner back from the physically challenging diving in Scotland and is already taking on wish list mountain climbing in Southern California, albeit before the fire season commenced!
"...Those interested in the world's oldest (non-clonal) living trees, check out the White Mountains, near Big Pine, California, where I hiked/jogged at an elevation 11K feet. It was a near spiritual experience, communing with Methuselah and even older ancient bristlecones, over 5000 years old. The bristlecones grow very slowly in the xeric, high-altitude conditions. In fact, one inch of growth can represent 200 years of growth. The rings must be counted using a high magnification microscope. Some growth rings are only one cell wide! The bristlecone pine forest is truly an amazing place..."
Notes on Kevin's Camera Equipment:

"...I'm shooting a Nikon D800, in a Sea & Sea MDX housing, and employ dual YS-D2J strobes, although I find the best images result from single strobe lighting. Somehow I got the moniker "Mr. Macro". Although I have wide-angle equipage, I haven't used it for over a decade. Instead, I use a 60mm lens with a 1.4x teleconverter, for faster focusing, over the 105mm lens (which is gathering dust). Also, for minuscule subjects, I deploy a Subsee 10x diopter, which flips over my port. I'd rather pass up 10 shots of a whale for one good image of a beautiful nudibranch. Thus, my macro lenses are practically welded to my camera. Surprisingly, I have photographed full body shark images, using this set up, when the water is clear enough..."
Well, I can see with Kevin's statement regarding his preference for shooting nudibranchs vs. whales, he probably puts himself at odds with most of the professional u/w photographers I know, but the what the heck, I am in complete accordance with Kevin which makes us both outliers in the U/W Film Festival crowd! After spending five days at Isla de Las Mujeres some years ago in a short sighted quest for whale shark video, I had nothing to show for the trip but 15 seconds of questionable video! That never ever happens on trips dedicated to slug hunting. Anyhow, that trip put an end to any thoughts I might have entertained about joining the ranks of the whales or I'm not interested crowd!