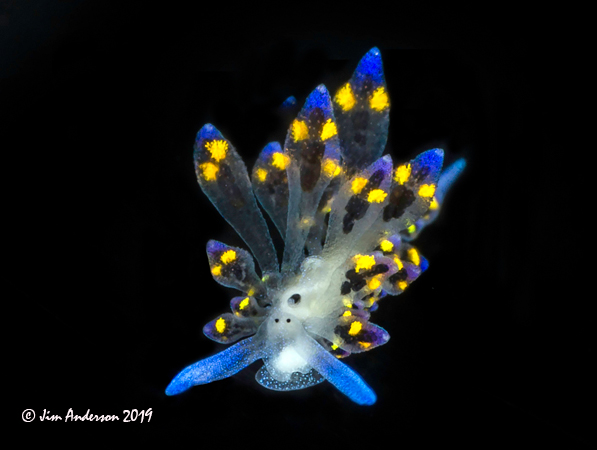 Stiliger sp.
For a long time this spectacular species was listed as a Costasiella because the eye spots were close together. Nudibranchs and Sea Slugs (second edition) explains that it is a Stiliger, and because this group is not a natural group (Krug et al., 2015) will probably be synonymized with Placida in the near future. The animal is bluish in color. The cerata have a dark digestive gland and contain yellow and blue patches. The rhinophores, oral veil and tail are dusted with minute blue specks.
Reference:
Krug, P.J., Vendetti, J.E., Ellingson, H.A., Trowbridge, C.D., Hirano, Y.M., Trathen, D.Y., Rodriguez, A.K., Swennen, C., Wilson, N.G. & Valdes, A 2015. Species selection favors dispersive life histories in sea slugs, but higher per-offspring investment drives shifts to short-lived larvae. Systematic Biology 64: 983-999.
Webmaster's Post Publication Notes
Actually there was a prior sighting by Dave Cowdery at the 2016 SlugFest at Crystal Blue Resort! Please go to BOW 961 to see Dave's pic of this beautiful sea slug!
Sorry Dave, the Webmaster went to sleep at the switch!


Dave Behrens
Sammamish, WA 98074
Mar., 2019
Send Dave email at davidwbehrens@gmail.com