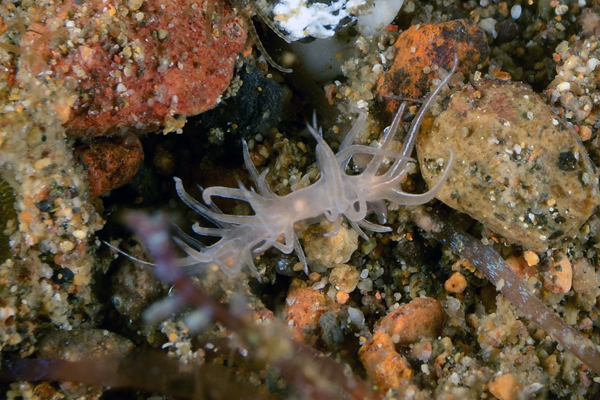 One of my favorite aeolid genera since we found Sakuraeolis enosimensis (Baba 1930) introduced into San Francisco in the 1980's, several new species have popped up around the globe. Today it is one of the most comment nudibranchs in the bay.
I am only guessing on the ID of Dave's photo here. This almost featureless specimen comes closest to Sakuraeolis sp. 3 in NSSI, but lacks some of the color mentioned ii the book, prompting me to admit I'm guessing. The shared drab featureless appearance of both this specimen and the photo on page 381 of NSSI and the white on the oral tentacles and rhinophores, provides the only hope for my guess.
But this is how our understanding of these critters advances - one specimen at a time, each adding to the species variation, geographic range and biology.



Dave Behrens
Sammamish, WA 98074
Jul., 2018
Send Dave email at davidwbehrens@gmail.com