Ceratophyllidia papilligera
Image courtesy of Kevin Lee
Jardines de la Reina (Gardens of the Queen) off the southern coast of Cuba



Image courtesy of Kevin Lee



Ceratophyllidia papilligera (Bergh, 1890)


Dave Behrens is in the Philippines having fun conducting a Nudi workshop in Anilao, so yours truly the webmaster is filling in!

When Kevin first sent us images of his find of Ceratophyllidia papilligera , I knew we had to so this one for a number of reasons, the paramount one being the excellent images and documentary Kevin made available on his trip to Cuba. And of course the premise that the Caribbean and Cuba are not on the "must do" branching excursion list of most sluggers I know due to the dearth of slugs! As you will see Kevin found it a real challenge to find any slugs at all on this trip!

Kevin was a little hesitant in his identification, but after reviewing Bill Rudman's posting on Ceratophyllidia papilligera , I am convinced as you will be that Kevin was right on target in his identification! Rather than discuss taxonomy for which Dave is better suited, I would like to relate Kevin's recent public postings on his Cuba odyssey! For those of you planning a Cuba diving trip, this is a primer on what to expect!

"...Diving in communist Cuba involves a lot of documentation, including a special visa, an affidavit of approved activity (in our case, under the category "education exchange" to study marine life), Letter of Authorization, and proof of medical insurance. Fortunately, I was ably guided through the labyrinth of regulations by noted photographer, Richard Salas*, as he regularly organizes and leads dive groups to the pristine waters of the Gardens of the Queen and other scuba destinations worldwide. Our dive group was largely comprised of diver-photographers from Germany, Mexico, Australia, Canada and America. We all benefited from personal, one-on-one tutorship with Richard, aimed at improving our photographic skills.
A midnight red-eye, from LAX to CLT (Charlotte) and then connecting flight, all on American Airlines, transported us to Havana by noon, the next day. Alas, it took 2.5 hours to clear customs and the ordeal made the mojito (Cuban highball with white rum) taste all the more soothing, once I reached my clean and cool B&B accommodations. A few laps in the salt water swimming pool also helped revive my spirits.
The next day, Richard had arranged a sightseeing excursion of Havana, whilst riding in well-preserved American jalopies from the '50s and '60s. On hearing me exclaim that the motor sounded very good for such an old car, my driver admitted a Mercedes engine was under the hood. Touring Havana from a convertible car was a great way to experience the historic city. We walked on well-worn cobblestone streets and sampled Cuban cuisine which was quite tasty. A few cigar aficionados branched off in search of Cuba's best stogies, at more than $100 apiece! In conversing with locals, I learned that Cuban citizens are prohibited from enjoying scuba, as divers could employ it as a means to rendezvous with an escape boat bound for Florida, only 90 miles distant.
At the wee hour of 04:30 the next morning, our bleary-eyed group, lumbered onto a bus for a 5-hour marathon drive to the port town of Jucaro, where we transited ourselves and weighty luggage to a boat, which chugged the ocean for another 5 hours to the Tortuga, a "floating hotel" firmly anchored in the Garden of the Queens archipelago, 50 miles away. From under the Tortuga, a resident crocodile regularly emerges, on hearing the familiar call of his name "Tito, Tito". The toothy beast was ever eager to gobble down offerings of plucked whole chickens.
Nudibranchs were scant; I found only three species. Apparently the Caribbean is not noted for them, in general. However, plenty of other marine life captivated our attention and kept our strobes firing away on turtles, crocodiles and wide array of colorful fishes. The reefs of Jardines del la Reina are interspersed by cays and huge stands of mangroves, all thriving with life. Healthy sea fans, giant sponges and abundance of corals can be seen on every dive. Though Fidel Castro was a diver-hunter, he was instrumental in establishing the region as a marine reserve after a purported conversation with Jacques Cousteau.
The highlight for most divers were aggregations of sharks, mostly Caribbean Reef and Silky. Beneath our boat, swimming sharks were so thick, they whacked my fins and bumped my legs and, on occasion, I could reach out and pet them. Having left my wide-angle paraphernalia at home, it was most challenging to shoot everything with my fixed macro lens (60mm + 1.4x teleconvertor), including full body shots of sharks, barracudas and giant groupers, but it can be done.
In the course of six days, I logged 18 dives and spent 21 hours underwater. The visibility averaged a clean 80-100 feet, which allowed me to linger on photo ops, while keeping an eye on bubbles of distant divers so I could navigate back to the anchor line. My deepest dive was 101'. The water temp was 79F consistently, except one dive, inside Octopus Cave, where it was noticeably 2 degrees less, as if a cold underwater spring fed into the cavern. Surge was minimal and the occasional current was mild, compared to SoCal.
Finally, this dive report would not be complete without introducing Britta. Though she lost both her legs in a train accident before age two, she is an intrepid diver, with buoyancy control and diving skills better than most. The loss of her limbs has not diminished Britta's zest for life nor her ability to achieve positive goals, such earning a doctoral degree in chemistry and working as a patent attorney. In fact, Britta represented Germany in four Para-Olympics, winning Gold for swimming in the '88 Seoul Olympics, and she has held numerous world records. She is an inspiration for us all!..."
Photos of Britta and other Cuban memories, topside and underwater, are posted here :
Mike Miller
San Diego, CA
Mar., 2018
Send Mike email at mdmiller@cts.com

---
Kevin Lee, Dave Behrens, and Christiane Waldrich
relaxing after a hard day of slug hunting at Villa Markisa Saraya, Bali,Indonesia!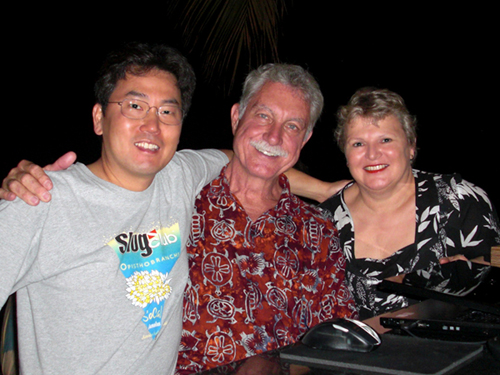 Kevin certainly needs no introduction to the Southern California Dive Community! On an international level you may have encountered Kevin as he certainly gets around on a life time quest to photograph the many treasures of the undersea world.

Based in Fullerton, California, Kevin Lee's adventure gene has taken him to over forty countries. After learning to scuba dive, in 2002, he embraced underwater photography as a way of sharing the ocean's wonders with non-divers. Though aesthetics is important in his photography, Kevin also strives to capture unique perspectives that are of interest to marine biologists and other scientists who study ocean creatures and their anatomy/phylogeny.

Though Kevin photographs all marine life that fits in his macro lens, opisthobranchs are his favorite subject. He has photographed and collected invertebrate specimens, with proper permitting, all around the world for scientific research. These pursuits have taken him scuba diving in all Seven Continents, including Antarctica where water temperatures were 29F (-2C).

Kevin's work can be seen in the Leatherby Libraries, Chapman University, Orange, California, where his opisthobranch images are on permanent display. Other works have been exhibited at the Branford House, University of Connecticut; Scripps Institution of Oceanography; Monterrey Bay Aquarium; Aquarium of the Pacific, Long Beach; City of Los Angeles (ELC); and other venues. And of course, Kevin continues to contribute marine images for numerous magazines, newspapers, academic literature and many dive related publications.

To view more of Kevin's photography, visit diverkevin.com

Send Kevin email at diverkevin@gmail.com

---
From left to right, Terry Gosliner, Angel Valdes, Dave Behrens La Jolla, Calif. Send Dave email at davidwbehrens@gmail.com


© The Slug Site, Michael D. Miller 2018. All Rights Reserved.

---