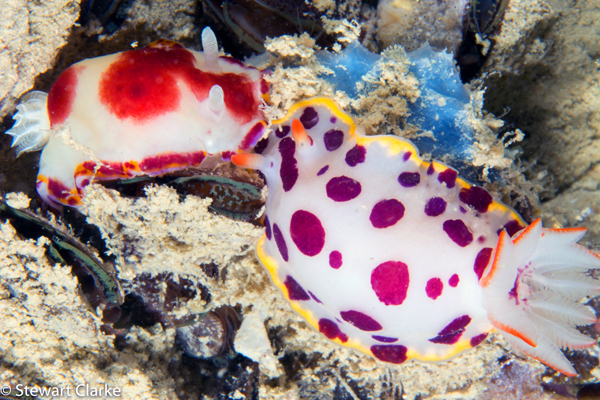 I don't know what the heck Stewart was doing diving in the marina at the Viceroy Hotel in Abu Dhabi, United Arab Emirates, but he has sure stumbled across a treasure trove of nudibranchs, especially Goniobranchids. You may recall his first find of a new Goniobranchus sp. that we presented in March 2015. Well here is another one, and when you look at the two side by side in the photo to the left, they are distinctively different. Two undescribed species side by side - wow. And there is a third one yet to come.
The latest find is large, white with very large oval purple spots on the dorsum and hyponotum. It has a yellow marginal band round the notum. White mantle glands are visible along the posterior end of the notum. These glands likely secrete defensive chemical metabolites. The gill and rhinophores are white with orange tips. Wow, what a beauty.
I am not sure of the identity of the blue sponge it is feeding on, but the bottom where Stewart ran into these guys is quite silty and dominated by filter feeding mussels. I hope we can put a name on this species real soon. Thanks Stewart.
Dave Behrens
Sammamish, WA 98074
Apr., 2017
Send Dave email at davidwbehrens@gmail.com