Chromodoris neona
Photo courtesy of Jeff Hamann
Photo taken at Sewage Beach, Florida

Chromodoris neona (Er. Marcus, 1955)

The Caribbean is home to over 300 species of gorgeous sea slugs. A collection of photos of these beautiful animals, including this species, has been recently compiled. Caribbean Sea Slugs authored by the team of Angel Valdes, Jeff Hamann, Anne DuPont and yours truly, includes multiple photos of each species showing aspects of their external anatomy and coloration, but also behaviors such as swimming, laying eggs and feeding.
Chromodoris neona is aptly named. Its neon-like coloration suggests a glistening marquee in Las Vegas or New York. Its background color is pale bluish gray with a pattern of reticulate yellow-gold lines, edged with red. Juveniles have fewer lines. The gills and rhinophores are white tipped with blue.
This species has been confused with Chromodoris clenchi and C. binza . You'll have to check out this new book to see how they differ.
Like other chromodorids, it is sponge eater. This species egg ribbon is wide and white in color. Its geographic range is from Florida to Panama and Brazil.
Dave Behrens
Gig Harbor, Washington
Sept., 2006

---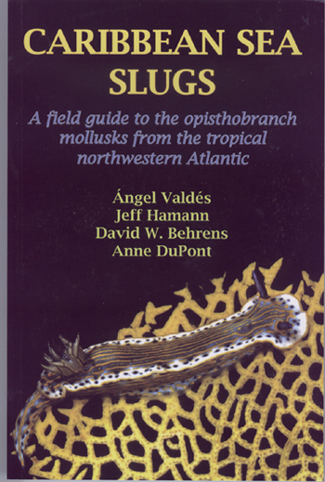 Caribbean Sea Slugs



A field guide to the opisthobranch mollusks from the tropical northwestern Atlantic 2006.


by Angel Valdes, Jeff Hamann, David Behrens & Anne DuPont

First and only guide to the nudibranchs and sea slugs of the Caribbean and Southeast U.S. 310 species are illustrated with multiple color photos. Close-ups of gills, rhinophores and eggs are included for many species. Introduction explains where and how to find these beautiful creatures.

Dimensions: 6 x 9
Pages: 289 pages
Photos: Over 500 color photos
Softcover $35.00


Contact Dave at dave@seachallengers.com
---
Puerto Vallarta, Mexico
March 2005

---
© The Slug Site, Michael D. Miller 2006. All Rights Reserved.

---