Plocamopherus imperialis
Photo taken at site of HMAS Brisbane
Sunshine Coast, Queensland, Australia
Photo courtesy of Gary Cobb

Plocamopherus imperialis Angas, 1864
This week we are going to centerpiece a streaming slide show courtesy of Gary Cobb who has been exploring a new "artificial reef" in his home waters on the Sunshine Coast. The reef is actually a decommissioned Guided Missile Destroyer scuttled back in July of this year! It is interesting to note that one of the first inhabitants of this artificial reef was one of our sea slug friends, none other than Plocamopherus imperialis .
Sit back and enjoy a slide show made possible by Gary Cobb of Queensland, Australia


Michael D. Miller
San Diego, California
Dec. 2005

---
Gary Cobb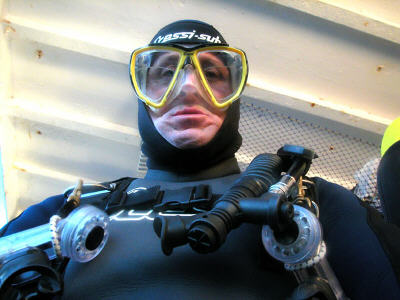 I guess you could say I am an art director, graphic designer, illustrator, cartoonist, font designer, typographer, fine artist, web designer, diver and underwater photographer that moved from Los Angeles to the Sunshine Coast, north of Brisbane Australia, in 1990. In 1996 Gary and wife Jan launched Cobb Creative, a full service advertising and design studio

My first book, The Peak Baggers Guide to the Sunshine Coast was published in 1996 and my video Walking the Overland Track, Tasmania has been acclaimed as a must for anyone considering hiking this world heritage trail.

I was a skydiver/instructor for 15 years and after accomplishing all that I set out to do, Jan and I took up diving together. I have the tendency to get to the bottom and slowly work my way around searching for the beautiful little things occasionally catching a glimpse of something bigger gliding by. My mission is now to record the opisthobranchs of the Sunshine Coast. In two years, I and dive buddy David Mullins have recorded 227 species that can be viewed at Gary and David's nudibranch site. Nudibranchs of the Sunshine Coast , Australia.
I tend to refer to nudibranchs as Jewels of the Sea. My area of interest is from Moreton Island to Noosa. My favourite dive site is Old Woman Island off Mudjimba Beach. "The surrounding reefs of the island are a branchers paradise!" I find the night dives here are better than the Great Barrier Reef.

Greg Riddell of Sunreef Scuba Diving Services and I recently broke the Guinness World Record for Longest Submergence on a single tank of air for 7 hours 40 min 14 sec breaking the old record by 15 minutes.

My underwater camera gear is a Nikon Coolpics 5000 with a 512mb card (200 plus hires jpeg photographs), Subal housing, twin Inon strobes. You'll usually see me wearing twin scuba tanks on dives because redundency is important and 'dive time is picture time'. I just don't see the value of spending limited time underwater and taking a camera the only yields 36 shots that aren't guaranteed. You have more options with digital.

The Nikon Coolpics has an option called 'Optical Zoom'. I found it very difficult to use underwater...refused to focus at max zoom. I bought a 110mm magnifying glass and a piece of PVC pipe and attached it to the port of the housing. See attached. Underwater I take it off to flood the air out and walla! I have fast focussing. "Saga" was shot this way and I think it works great! The close up world is looking just fine. OH! Saga was just short of 10mm long. I also put a magnifier on the rear viewing window. See attached .

Send Gary email at gary@nudibranch.com.au


---
© The Slug Site, Michael D. Miller 2005. All Rights Reserved.

---