Chromodoris strigata
Photo courtesy of Mary Jane Adams
Kathy's Corner, Milne Bay
PNG

Chromodoris strigata, Rudman, 1982
Last month Webmaster Mike Miller joined me on a dive cruise in Milne Bay, Papua New Guinea aboard the newly re-built M.V. Telita. Between the two of us we found sixty species of opisthobranchs, many of them rare and/or undescribed. One of our best branching sites was Kathy's Corner, near Basilisk Point. Within easy reach in a single dive are coral bommies, a vertical wall and a sand slope with patch reef. The wall was very productive in the afternoon and at night we found Pleurobranchus forskalii and several platter-size Dendrodoris tuberculosa in 4-5 meters of water in the sandy area.
This Chromodoris strigata is one of a pair I found crawling on a red sponge on the vertical wall. It is considered part of the Chromodoris quadricolor group, which is characterized by orange, white and dark blue or black bands. The bold color pattern made them easy to spot among the jumble of corals, sponges, hydroids and tunicates. Nudibranchs with this type of pattern, called aposematic coloration, depend on advertising rather than camouflage for defense. A brightly colored stripe pattern is thought to be a sign of noxious taste that potential predators have learned to recognize. This is certainly true for nudibranchs because they have mantle glands that produce and store poisonous chemicals.
At barely and inch long, Chromodoris strigata is smaller than most chromodorids, but could hold its own in any slug beauty contest. The white areas on the mantle seem to reflect light, giving it a lovely luminescence.
Although it has a wide tropical Indo-Pacific distribution, it is not common any place I have dived. In fact, I have only seen it once before, in Lembeh Strait, Sulawesi.
Mary Jane Adams
Arcadia, Calif
Nov. 2004

---
Image of Mary Jane taken during Phoenix
Islands trip.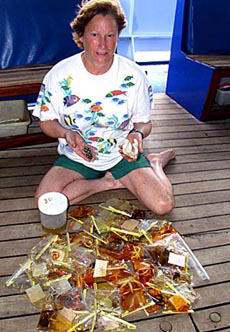 Mary Jane retired from 33 years of practicing anesthesiology in 1999. She now has more time to devote to her passion for diving and photographing marine wildlife. This recent trip was her nineteenth dive adventure in Papua New Guinea and her ninety-sixth worldwide. Her special interest in opisthobranchs led her to become a Research Associate at the Natural History Museum of Los Angeles County in the Department of Malacology. She also serves on the Board of the Trustees of the Pacific at the Aquarium of the Pacific in Long Beach, CA.

This image of Mary Jane was taken during a research expedition to the Phoenix Islands in 2002.

Picture courtesy of Cat Holloway

Webmaster's Notes : There is no doubt that Mary Jane certainly gets around! I would like to take this opportunity to thank Mary Jane for her continued support of the Slug Site through the years! Her photographs and commentary continue to be first rate!--The Webmaster


---
© The Slug Site, Michael D. Miller 2004. All Rights Reserved.

---