Hypselodoris sp.
Photo courtesy of Anthony Holley


Hypselodoris sp.(undescribed)

New species just keep coming, particularly from Indonesian waters. This undescribed chromodorid may have been over looked in the past due to its similarity to Hypselodoris maridadilus & H. whitei (Bill Rudman's Sea Slug Forum). Debelius included a photo of this species (page 214 bottom) and labeled it as a Chromodoris. The same mistake was repeated in Tonozuka's Bali guide on page 86. The species is clearly a Hypselodoris , because of the elongate body and placement and size of the gills.

The broken and branching pattern of lines on the notal surface, the series of purple marks along the mantle edge are characteristic. Other species like, Hypselodoris nigrolineata , Hypselodoris maritima , Hypselodoris kanga and Hypselodoris zephyra have similar lines on the dorsum, but each is unique in its own right. You should also note the white bar up the posterior side of the rhinophores, as being unique to this species.

More information on this species is invited. Please keep your eyes open for it and let us know where and when you have observed it, and what it is feeding on.



Dave Behrens
Danville, Calif
July, 2004






---
Anthony and Martha at home in London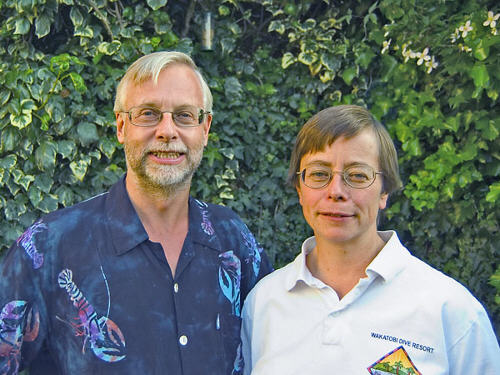 I normally use a Nikon F90X with 105mm macro lens in a 10 year old Subal housing for photographing nudibranchs. Lighting is from a Ring Flash made by Photo Ocean Products. This has two semi-circular flash tubes around the port and gives a very even column of light, which is ideal for nudibranchs, giving no distracting shadows round the gills or rhinophores. In addition, a Nexus Wet Lens is often added to give greater than 1:1 magnification. I always carry this external Push-on Close-up Diopter with me to increase the range of macro shots available. For really tiny critters I use the Nikon 4T internal diopter as well. Unusually this picture was taken with my 28 - 70 mm zoom lens with the wet lens, and with a normal Nikon SB25 strobe, also in a Subal housing. I had taken that combination down as I was expecting to photograph some larger critters, but just kept finding more little nudibranchs. The Hypselodoris sp. group pictured above were photographed near the end of a three week expedition to Lembeh Straits where we shot over 80 species. To keep the identification list up to date, I used a small Ricoh Caplio RR30 digital camera in a Sea & Sea DX-3000 housing to record most of the individuals. This enabled us to identify our finds after the dives and enter them on a spreadsheet on a Psion Revo handheld mini-computer. The Ricoh has a fast response time and good macro capabilities, and was also useful when the film was used up on the Nikon but the nudibranchs kept appearing!
To see more of Anthony's nudibranchs, visit his website at Holleyuwphoto.com

Send Anthony mail at anthony@holleyuwphoto.com



Webmaster's Notes :

Well Folks, until I met Anthony and Martha at Kungkunghan Bay Resort (KBR) in March, it never occurred to me that I would meet a couple whose enthusiasm for branching far exceeded that of my own. In fact, my efforts paled compared to Anthony and Martha who must have spent every waking moment at KBR either taking pictures of branchs or documenting the event later on. Their energy seemed boundless in this regard! Once more, they were actually having fun doing it! My hat is definitely off to this couple from across the pond!
---
Taxonomic information courtesy of:



---
© The Slug Site, Michael D. Miller 2004. All Rights Reserved.

---