Cyerce orteai
Photo courtesy of Ali Hermosillo


Cyerce orteai

Valdés & Camacho-García, 2000 (revisited)

Species of the genus Cyerce have been featured here on Mike's web site several times, due to the delicate beauty and unique biology. In the past you have seen Cyerce cristalina from Aeolian Islands Archipelago, Italy; Cyerce elegans from the Philippines; Cyerce kikutarobaba from Tulamben, Indonesia; an undescribed species (Bob Bolland's Site) from Okinawa, and even Cyerce orteai from Costa Rica. We'd like to show you Cyerce orteai once again, in a different color variation.

Cyerce orteai was one of the 60 or so species of opisthobranch collected by Ali Hermosillo and myself on our Destiny Expedition to the waters of Zihuatanejo, Guererro, Mexico. Our specimen shown here if much lighter in color than Angel and Yolanda's specimen from the INBio web site and the BOW mentioned above. It has all the anatomical features however that they use to differentiate it from other species of Cyerce.

As Yo mentioned in her BOW this species of Cyerce, was the first record of the genus for the eastern Pacific. Since its description it has subsequently been collected at several sites along the Pacific Coast of Costa Rica, as well as Maui and Oahu, Hawaii and in Nayarit, México. We can add Zihuatanejo to that list.

One feature of Cyerce, aside from the inflated cerata (those on Cyerce orteai have numerous tubercles) is its interesting bifurcated rolled rhinophores. You can imagine how difficult it was for hawked eyed Ali to notice this specimen among the algal tuff. Like other sacoglossids this species is herbivorous, feeding on algae. The genus Cyerce does not seem to be one of the solar powered groups, who incorporate zoozanthellae into their tissue for the purpose of up taking the byproducts of photosynthesis.

Thanks once again to Steve Drogin and the crew of the Destiny.




Steve and his new bride Hiro, pose with Ali, Roberto Chaves, Skipper Julie and Engineer, Doug Wagner
on the stern of Destiny.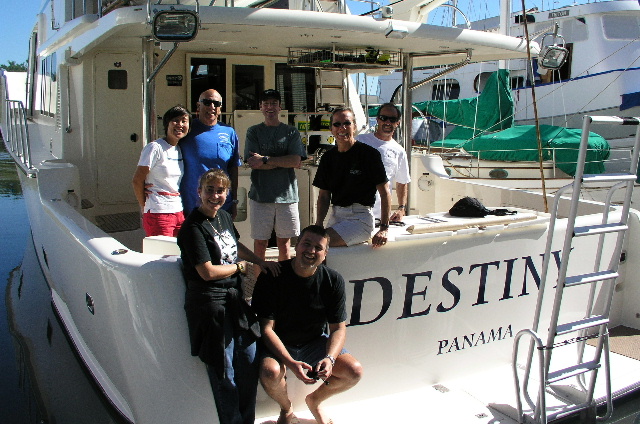 a




Reference:
Valdés, A. & Camacho-García, 2000. A new species of Cyerce Bergh, 1871 (Mollusca, Sacoglossa, Polybranchiidae) from the Pacific Coast of Costa Rica. Bulletin of Marine Science, 66 (2):445-456





Dave Behrens
Danville, Calif
Jun, 2004






---

Taxonomic information courtesy of:




---

© The Slug Site, Michael D. Miller 2004. All Rights Reserved.








---