Sagaminopteron ornatum
Photo courtesy of Gary Cobb
Photo taken at Old Woman Island, Sunshine Coast, Mooloolaba, Queensland Australia
with a Nikon Coolpics 5000 in a Subal housing with twin Inon strobes


.

Sagaminopteron ornatum Tokioka & Baba, 1964

Could this critter be any wilder in color? Help me Rhonda! This flamboyant species was first discovered in Japan, but is now known from the Sunshine Coast of Australia, and the Philippines, as well. If its eye popping color is not enough to get attention, this species is also a strong swimmer - it's large parapodial "wings" able to keep it suspended off the bottom for some time.

The ability to leap up and swim off is a terrific defensive escape strategy, but one would think that it's bright aposomatic "warning" color would be enough to scare any wanton or noisy predator away. Could this species possible trying to mimic the flatworms Phrikoceros sp. or even Pseudoceros ferrugineus ?

A member of the family Gastropteridae, the genus name recognizes Sagami Bay where it is said to be first found by Japanese Emperor Hirohito. Other closely related genera are: Gastropteron, Enotepteron and Siphopteron.. The genus Sagaminopteron is distinguished from these by having 4 or 5 gills, arranged on the right side of the body, one above the other. Most cephalaspideans, including most gastropterids, have a single gill. You can see these in one of Gary's dorsal shots just above the medial orange siphon structure (Bill Rudman's Sea Slug Forum).

Previously Webmaster Mike has featured Siphopteron brunneomarginatum and the more closely related Sagaminopteron nigropunctatum here on the Slug Site.

We have yet to determine what these species feed upon. They are most commonly found crawling on open sponge and coral surfaces but the morphology of the radula and gut contents suggest they are not feeding on the sponges or the corals. Bill Rudman suggests that they feed on small flatworms. His many calls for feeding observations have not been answered.





Dave Behrens
Danville, Calif
Feb. 2004





---
Gary Cobb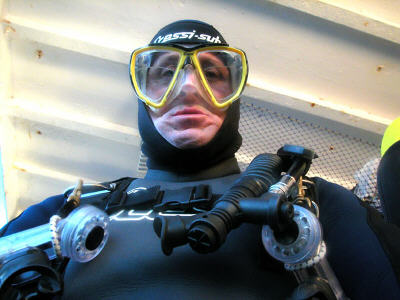 I guess you could say I am an art director, graphic designer, illustrator, cartoonist, font designer, typographer, fine artist, web designer, diver and underwater photographer that moved from Los Angeles to the Sunshine Coast, north of Brisbane Australia, in 1990. In 1996 Gary and wife Jan launched Cobb Creative, a full service advertising and design studio

My first book, The Peak Baggers Guide to the Sunshine Coast was published in 1996 and my video Walking the Overland Track, Tasmania has been acclaimed as a must for anyone considering hiking this world heritage trail.

I was a skydiver/instructor for 15 years and after accomplishing all that I set out to do, Jan and I took up diving together. I have the tendency to get to the bottom and slowly work my way around searching for the beautiful little things occasionally catching a glimpse of something bigger gliding by. My mission is now to record the opisthobranchs of the Sunshine Coast. In 10 months I and dive buddy David Mullins have recorded 81 species that can be viewed at www.cobb.com.au. I tend to refer to nudibranchs as Jewels of the Sea. My area of interest is from Moreton Island to Noosa. My favourite dive site is Old Woman Island off Mudjimba Beach. "The surrounding reefs of the island are a branchers paradise!" I find the night dives here are better than the Great Barrier Reef.
Greg Riddell of Sunreef Scuba Diving Services and I recently broke the Guinness World Record for Longest Submergence on a single tank of air for 7 hours 40 min 14 sec breaking the old record by 15 minutes.

My underwater camera gear is a Nikon Coolpics 5000 with a 512mb card (200 plus hires jpeg photographs), Subal housing, twin Inon strobes. You'll usually see me wearing twin scuba tanks on dives because redundency is important and 'dive time is picture time'. I just don't see the value of spending limited time underwater and taking a camera the only yields 36 shots that aren't guaranteed. You have more options with digital.

The Nikon Coolpics has an option called 'Optical Zoom'. I found it very difficult to use underwater...refused to focus at max zoom. I bought a 110mm magnifying glass and a piece of PVC pipe and attached it to the port of the housing. See attached. Underwater I take it off to flood the air out and walla! I have fast focussing. "Saga" was shot this way and I think it works great! The close up world is looking just fine. OH! Saga was just short of 10mm long. I also put a magnifier on the rear viewing window. See attached .

Send Gary email at garycobb

WEBMASTER'S NOTES: Well, once again it has been demonstrated that a little ingenuity goes a long way in a digital approach to super macro underwater photography. Gary has certainly found a solution in his quest to photograph sea slugs, regardless of their size. I would like to personally thank Gary for sharing his technique with the rest of us.
---
Taxonomic information courtesy of:



---
© The Slug Site, Michael D. Miller 2004. All Rights Reserved.

---