---
Hoplodoris bramale Fahey & Gosliner, 2003

Hoplodoris bramale is the first record of a species of Hoplodoris from the Eastern Pacific. This species has thus far only been found on the Pacific coast of Costa Rica. It was named for its appearance, which resembles a truffle, tuber bramale in Latin. Hoplodoris bramale has large, rounded tubercles. The coloration is complex and variegated, with the ground color light to medium mottled brown or tan. It is most similar in appearance to Hoplodoris grandiflora with both species having no distinct central oval of color. Both species also have brown rhinophores with white tips and a raised rhinophore sheath. Both species also have feathery, light brown or tan gill leaves. It's the internal anatomy that varies considerably between the two species, particularly the reproductive anatomy. Hoplodoris bramale has two armed accessory glands while H. grandiflora has one gland. The radular morphology also differs between the two species.
Revision of the genera Hoplodoris Bergh, 1880 and Carminodoris Bergh, 1889
Fahey & Gosliner recently revised the two genera Hoplodoris and Carminodoris due to uncertainty of the phylogenetic status of these two genera. The uncertainty was due to the lack of distinguishing generic features and lack of complete anatomical descriptions. Further anatomical details were revealed during the examination of specimens from the type localities. Analyses indicate that the genus Carminodoris Bergh, 1889 is a junior synonym of Hoplodoris Bergh, 1880. There are few morphological characters that can be used to justify two distinct genera.
Carminodoris nodulosa from Hawaii and C. bifurcata from Okinawa appear to be the same species and should be called Hoplodoris bifurcata (Baba, 1993). Hoplodoris desmoparypha Bergh, 1880, Carminodoris mauritiana ergh, 1880 and C. grandiflora (Pease, 1860) are conspecific and should be named Hoplodoris grandiflora (Pease, 1860).
Hoplodoris nodulosa (Angas, 1864) and H. novaezelandiae (Bergh, 1904) appear to be conspecific.
Hoplodoris nodulosa (Angas, 1864) and Hoplodoris estrelyado (Gosliner and Behrens, 1998) should be retained as valid species.
Carminodoris armata Baba, 1993 is a synonym of Hoplodoris armata. There are two new species to add to the genus Hoplodoris: Hoplodoris flammea and Hoplodoris bramale. Thus, there are seven valid species in the genus Hoplodoris: H. armata, H. bifurcata, H. bramale, H. estrelyado, H. flammea, H. grandiflora and H. nodulosa. Although the genus Discodoris is a closely related taxon, the genus Geitodoris is more closely related to Hoplodoris.
Important diagnostic morphological characters of Hoplodoris that have been inherited from a common ancestor include penial hooks and denticulate radular teeth. Newly acquired morphological characters of Hoplodoris species include an accessory gland with a spine and vaginal armament.


Dr Shireen Fahey
Postdoctoral Fellow
Department of Invertebrate Zoology and Geology
California Academy of Sciences
Golden Gate Park
San Francisco, California 94118
Oct., 2003

Reference:
Fahey, S. J. & Gosliner, T. M. 2003. Mistaken identities: On the Discodorididae genera Hoplodoris Bergh, 1880 and Carminodoris Bergh, 1889 (Opisthobranchia, Nudibranchia). Proceedings of the California Academy of Sciences 54(10):169-208.

Webmaster's Notes:: The above paper can be downloaded in *.pdf form from the Academy . Proceed down to publications 2003 and click on the paper.

---
Photo courtesy of Terry Gosliner
Taxonomic text courtesy of Shireen Fahey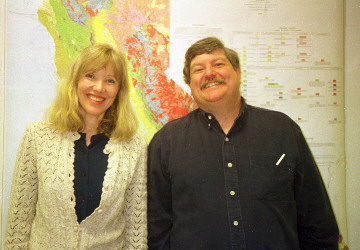 Photo of Dr.'s Terry Gosliner and Shireen Fahey at the California Academy of Sciences in Golden Gate Park, San Francisco, where Shireen is now a post-doc.


Send Shireen email at sfahey@calacademy.org


---
© The Slug Site, Michael D. Miller 2003 All Rights Reserved.




---