Hypselodoris insulana
Photos couresty of Keoki Stender
Midway Island

---
Hypselodoris insulana Gosliner & Johnson, 1999



This rare beauty, described by Terry Gosliner and Rebecca Johnson, is endemic to the Hawaiian Archipelago. It is known only from the Midway & Kure Atolls, at the northernmost end of the archipelago. Although restricted to very hard to get dive spots, Keoki reports that it was common on pier pilings in Midway Harbor in 1999, at depths of only 3-6meters.

The deep purple marginal band gives this species right away.

Similar in coloration to Hypselodoris peasei , H. insulana is much larger in size, measuring up to 30 mm in length. H. peasei , which is also from the Hawaiian Archipelago, but farther south on Maui and Oahu, has been called "the Locust" by Hans Bertsch and Scott Johnson (no relationship to Rebecca), because of its gregarious behavior, being found foraging in bands of dozens of individuals. Scott tells us - "It's a species with strongly diurnal habits. During the day, it tends to be exposed in the open feeding on yellow sponge (Luffariella sp.), often gathering in groups of up to 30 or more to completely devour sponge colonies (hence the name "locust"). At night, they crawl inside cavities in the sponge clumps or into holes in the reef to hide, often leaving their egg masses in those holes."

Unfortunately it is no longer possible to dive at Midway since the operation was shut down in 2002. Visit - http://www.midwayisland.com/ and - http://www.midwayisland.com/generalframe.html to get contact information on how visit this beautiful atoll.

References:

Gosliner, T.M. & Johnson, R.F. (1999) Phylogeny of Hypselodoris (Nudibranchia: Chromodorididae) with a review of the monophyletic clade of Indo-Pacific species, including descriptions of twelve new species. Zoological Journal of the Linnean Society, 125: 1-114.





Dave Behrens
Danville, Calif
Oct. 2003





---
Keoki Stender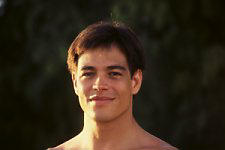 I'm a freelance underwater photographer, PADI Instructor, Scuba Repair Technician, Recompression Chamber Operator, and marine educator in Waimanalo, Hawaii. I enjoy observing and photographing marine life whether tidepooling, snorkeling, technical diving, or visiting aquariums. I was introduced to the ocean at an early age, trolling and bottom fishing with my father. I learned to surf (kneeboard) at 12 and began building surfboards soon after. To stay busy while the surf was flat, I started freediving to spear fish and collect shells, and got my Scuba certification in 1984 (I take only pictures now, not live animals). I attended the Kamehameha Schools, Windward Community College, and the University of Hawai`i at Manoa and earned a certificate from the Marine Option Program (MOP) for work in marine education and biological surveys on Moloka`i, Kaua`i, and at Hanauma Bay. Employment history includes training dolphins, diving, and veterinary lab support for the Navy, Windward Dive Shop, manager of Midway Sport Diving at Midway Atoll NWR, marine educator/dive officer/boat & recompression chamber operator with Rapture Marine Expeditions, survey expeditions of the Northwestern Hawaiian Islands, and educator for the Waikiki Aquarium. Other interests include native Hawaiian plants, wildlife, jazz, and airplanes. Yuko & I attend New Hope Christian Fellowship O`ahu.
Photographic History
My photographic background began in 1990 while teaching fish ID classes for fellow MOP students. The school's slide collection was limited and quality varied so I decided to teach myself how to use a real camera. After wasting lots of film taking horrible little fish photos (the wrong subject for a Nikonos), I spent all my savings for a housed autofocus SLR system. Within a few dives I was completely hooked on underwater photography! I contribute images to the Marine Option Program, Hanauma Bay, and other educational programs, and sell stock images for local hotel publications, calendars, and marine life books including Hawaii's Fishes, Hawaii's Sea Creatures, and Corals of the World. We use Pentax SF-1, PZ-1, Z-1, and MZ-S cameras with 15mm fisheye, 24mm, 50mm macro, 90mm macro, and 90mm + 2x teleconverter, Ikelite housings, and dual Substrobe 50/100's. We use Fujichrome Velvia 50 and do E-6 processing at home. Yuko & I are members of the Underwater Photographic Society of Honolulu.
Readers can visit my website or send me email at fishpicshi@yahoo.com
---
Taxonomic information courtesy of:



---
© The Slug Site, Michael D. Miller 2003. All Rights Reserved.

---