Platydoris carolynae
Photo courtesy of Dave Mulliner




Platydorids are on of my favorite sea slugs although they are seldom seen by most branchers unless one is into turning rocks during day dives or participating in night dives when they seem to be most active. For the most part they are happy clinging tightly to crevices on the underside of rocks and coral heads as reported by Mulliner and Sphon. Platydoris carolynae has a creamy color with a mottled dorsum and is believed to be endemic to the Galapagos Islands.

The species is named for Carolyn Stover, a member of the Ameripagos Expedition in March 1971. It was during this expedition that many of the specimens utilitzed in the identification were collected.



The Webmaster
San Diego, Calif
Feb. 2002




Reference

Mulliner, D.K.; Sphon, G.G. 1974. A new Platydoris (Gastropoda: Nudibranchia) from the Galapagos Islands. Transactions of the San Diego Society for Natural History 17(15):209-216.


---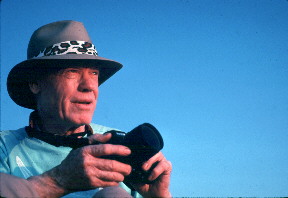 David Mulliner is a true legend. He was Sea Hunt before Lloyd Bridges. Seriously, he has been diving and studying marine life in San Diego and Baja California for decades. He has also pioneered close-up microphotography, and is the staff photographer for the San Diego Shell Club's publication, The Festivus. His charming smile and welcoming embrace have encouraged many neophytes into studying nudibranchs and other molluscs. Dave has generously supplied specimens to many scientists. He continues to share his expertise, knowledge and photographs with all who share his love of the sea and its mollusc community.
---
© The Slug Site, Michael D. Miller 2002. All Rights Reserved.

---