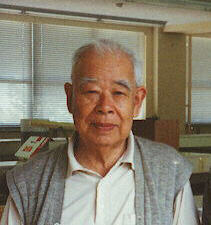 My Years of Correspondence with Dr. Kikutaro Baba

When I was just beginning my studies on opisthobranch molluscs someone suggested that I contact a Japanese taxonomist, a Dr. Kikutaro Baba, for help on a problem. Thirty years ago Dr. Baba had never heard of me, but despite our language barriers, and oceans of separation,he openly and generously examined my specimens and shared his thoughts in a warm and mentoring manner. I share with you here a few of the wonderful pen and water color drawings Dr. Baba sent me over the years we corresponded together. After all this detailed work he never asked for an acknowledgement, or ever for co-authorship. Every time I sent him a specimen he only thanked me for coming to him for help. Wow!
I never met Dr. Baba. Until I saw the photos here I never knew what he looked like, but these wonderful, detailed and meticulous sketches will always remind me of his generosity and the assistance he gave a hungry college student, excited about a couple of small sea slugs he had come across, half a globe away.