Dendronotus albus
Courtesy of Bruce and Johanna Wight
San Miguel Island, California



---
Dendronotus albus MacFarland, 1966

Members of the genus Dendronotus are often rather rare, but recently divers enjoying the waters of California's Channel Islands have experienced a virtual population explosion, not only in numbers of individuals, but in the number of individual species seen on a given dive.Dendronotus albus MacFarland, 1966, and its egg mass was one of several species recently captured on film by Bruce and Johanna Wight at Wilson's Rock, San Miguel Island. To quote Bruce, "...Hi Dave, It was on a high spot near Wilson's Rock off San Miguel Island, North Channel Islands. The high spots are very exposed and weather dependent so we were lucky to be able to spend time there. There was no current on the surface but there was some on the bottom. I noticed most of the species were feeding on the Aglaophenia..."
This species may be the easiest of all California Dendronotus to identify, the body being pure white and the tips of the frontal veil, rhinophoral sheaths and branched gills being orange, but sometimes may be confused with Dendronotus diversicolor which will the subject of next week's BOW. There is a opaque white area below the orange. The only other color feature is a white stripe extending from the 4th pair of gills to the tip of the tail. The scientific name "albus" is derived from it white body color.
This species current geographic range is from the Kenai Peninsula in Alaska to the Los Coronados Islands off the northern end of Baja California. Specimens may measure up to 35 mm in length.


Dave Behrens
Danville, CA
Aug. 2001

---
Bruce and Johanna Wight at Shaw's Cove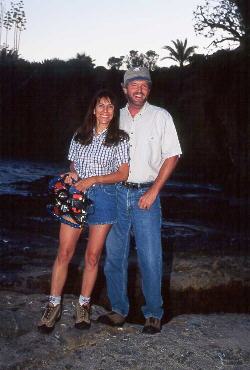 Bruce and Johanna met in early 1998 on a week long boat trip to observe and photograph the whales in San Ignacio Lagoon in Baja California. They have been together ever since. Bruce has been diving since 1974 and Jo, always wanting to try diving, quickly signed up for SCUBA instructions and received her certification.

Jo is a great top side photographer and recently picked up U/W photography. In their first year and a half together they made over 100 dives. They are both branchers with a passion for natural history and Southern California diving. Jo is a Biologist working in the biotechnology industry and Bruce is an Engineer at Boeing. Bruce has had underwater photographs published in The Orange County Register, Discover Diving and Personal Watercraft Illustrated. They are both members of the SDUPS and live in Laguna Beach, CA.

Send Bruce and Johanna email at bwproductions@earthlink.net
---
Taxonomic information courtesy of Dave Behrens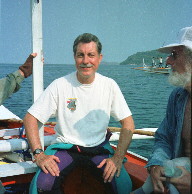 David W. Behrens
Author: Pacific Coast Nudibranchs
Co-Author Coral Reef Animals of the Indo Pacific
Propriator of Sea Challengers Natural History Books !
35 Versailles Court
Danville, CA 94506
E-Mail - info@seachallengers.com
FAX - 925-736-8982
Voice Mail - 925-327-7750
Send Dave mail at seachalleng@earthlink.net

---
© The Slug Site, Michael D. Miller 2001. All Rights Reserved.

---