Phyllidiopsis fissuratus
---
Phyllidiopsis fissuratus Brunckhorst, 1993

While diving at Pupukea on the north shore of Oahu last summer (year 2000), I noticed several abnormally large Phyllidiella pustulosa. At about 2 inches, they were twice as large as usual for this species in Hawaii. Although I had plenty of shots of this common slug, I finally photographed one for the record. Later, at a slide show put on by the Underwater Photo Society of Hawaii, local photographer Lori Kane showed a head shot of one of these big guys. With her 1:1 setup she had been unable to get the whole animal into the frame. Still not suspecting that it might be something else, I emailed Pauline Fiene-Severns and Cory Pittman to see if they had observed any 2-inch pustulosa on Maui. They had not, but Cory remembered a slide taken years ago by Scott Johnson during his Hawaii days. Scott had been going through his old slides, thought this one might be Phyllidiopsis fissuratus (which had not been described when Scott took the photo and which would be a new record for Hawaii), and had emailed a scan to Cory. Cory recognized my scan as similar to Scott's. Scott was right--the animals most closely resemble Phyllidiopsis fissuratus, which has a black ground color with high pink tubercles instead of the lower, rounded tubercles typical of pustulosa. Also, the back and top of the rhinophores is black, the lower front pink, and the margin of the head is banded pink and black. (Brunckhorst records the rhinophores as pink with a black tip and a black line down the posterior edge, so the Hawaii species might be slightly different.)
Unfortunately, I took only this one photo and, of course, have not seen the slugs since. Brunckhorst does not list Hawaii as a locality for this species, so Scott's original photo appears to be a record. Pauline also found a slide from Maui which she had misidentified as Phyllidiella pustulosa However, as far as I know no specimens have been collected, so final confirmation may be necessary.
Brunckhorst records the species from the central Great Barrier Reef, Fiji and Lord Howe Island. Scott has also seen what he believes to be this species in the Marshall Islands. The Sea Slug Forum also records it from the Philippines and Vanuatu.

. .
John Hoover
Honolulu, Hawaii
April 2001

---
Photos and Text courtesy of John Hoover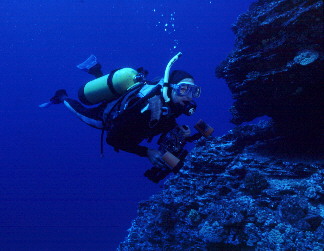 John Hoover live in Honolulu, Hawaii. John has published two books on marine life of the Hawaiian Islands. His third, a field guide to the marine invertebrates of the Hawaii,is available now. With over 600 photographs, it covers over 500 species, including 66 of Hawaii's most colorful and interesting opisthobranchs. Updates and errata for John's invertebrate book are now available. Email John for a copy.


Hawaii's Fishes, a Guide for Snorkelers, Divers and Aquarists Mutual Publishing, 1993

Hawaii's Underwater Paradise, Mutual Publishing, 1997

Hawaii's Sea Creatures, a guide to Hawaii's Marine Invertebrates. Mutual Publishing, 1999.

John's books are available through Sea Challengers !

Send John E-Mail at hoover@hml.org

---
© The Slug Site, Michael D. Miller 2001. All Rights Reserved.




---