Glossodoris charlottae

Photo courtesy of Dr. Marc Chamberlain

---
Glossodoris charlottae Schroedl, 1999

It's always exciting to learn of a newly described species. One of the most recent chromodorids to join the described species list is Glossodoris charlottae. I first became aware of this species from the photo shown above from New Guinea, taken by Marc Chamberlain. Since that time it has been described by Michael Schroedl, as a Red Sea species.
Glossodoris charlottae is one of the chromodorid species that carries its mantle high off the substrate while crawling, exposing its white foot. It reaches up to 60 mm in length. The dorsal surface is deep brown, and depending on the specimen, has varying sizes and concentrations of orange and yellow spots (see Bill Rudman's Sea Slug Forum). The edge of the mantle has 4 bands of color - white, dark blue, pale blue and orange (from the outer edge inward, respectively). The gills are cream, and the rhinophores orange with blue tips. This species is pictured as Chromodoris sp. in Debelius (1997, p. 215) but dropped in his 1998 printing.
With its puzzling disjunct sightings in New Guinea and the Red Sea, it will be interesting to see where else this species pops up as divers become aware of it and report their findings to us. Let us know if you've seen this beauty.

Reference:

Schroedl, M. 1999. Glossodoris charlottae, a new chromodorid nudibranch from the Red Sea (Gastropoda, Opisthobranchia). Vita Marina 46(3-4): 89-94.
---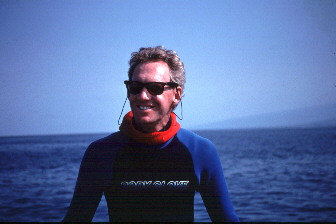 Marc Chamberlain is by vocation a neurologist and by avocation a wildlife photographer. He enjoys traveling during which he is always toting cameras. His diving holidays have been to the Carribean, up and down the west coast of the Americas and throughout the Indo-Pacific. His photographs have appeared in numerous magazines including: National Geographic; International and National Wildlife; Ocean Realm; Outside; and various Cousteau Society publications. Marc has collaborated on several books with marine biology themes. Marc was also San Diego Underwater Photographic Society Photographer of the Year six times during the time he lived in the San Diego County area. Marc has participated in thirteen consecutive San Diego Underwater Society Film Festivals which has to be a club record!

Send Marc mail at marc.c.chamberlain@kp.org
---
Taxonomic information courtesy of Dave Behrens
Photograph courtesy of Dr. Marc Chamberlain

---
© The Slug Site, Michael D. Miller , 2000. All Rights Reserved.

---