Specimen photographed at Phi Phi Island, Thailand, Mar. 1988 by the Webmaster
---
Halgerda stricklandi Fahey & Gosliner 1999
Halgerda stricklandi, named for Mark Strickland who collected and photographed the holotype at Ko Ha, Thailand. The species can be distinguished from other Halgerda by its large, bright orange-tipped, conical tubercles arranged in a reticulate pattern. Below each large, orange tip is a faint white ring. Scattered in between these larger tubercles are many smaller orange tubercles. The rhinophores have a yellow club and a black line that extends the entire length on the posterior side. There's also black coloration on the anterior side of the club. The gill has black spots on the anterior sides of the four branchial leaves. If you turn the animal over, it has an orange margin around the foot.
Although this species looks similar to two other Halgerda species (H. carlsoni Rudman, 1978 & H. malesso Carlson & Hoff, 1993) there are some external differences that you can use to distinguish between them. H. malesso (Bill Rudman's Sea Slug Forum) has a network of orange lines between its ridges and tubercles, whereas H. stricklandi has neither prominent ridges nor the orange network of lines. H. carlsoni looks similar but has fewer large, orange tubercles over all. The other differences between the three species are internal: both reproductive morphology and radular morphological differences.
Citation
Shireen J. Fahey and Terrence M. Gosliner. 1999.Description of Three New Species of Halgerda from theWestern Indian Ocean with a Redescription of Halgerda formosa Bergh, 1880. Proceedings of the California Academy of Sciences, 51(8): 365-383, 8 Figs.
---
Photos courtesy of Terry Gosliner
Taxonomic text courtesy of Shireen Fahey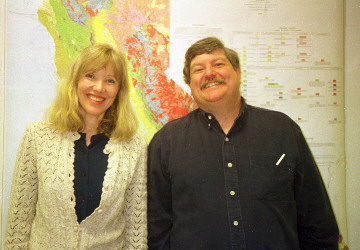 Photo of Dr. Terry Gosliner, newly appointed to the position of Provost at the California Academy of Sciences in Golden Gate Park, San Francisco, California and Shireen Fahey, Terry's graduate student from San Francisco State University.

Shireen is in the Marine Biology program and for her thesis, she is developing the phylogeny and biogeography of the nudibranch genus Halgerda. She has started with a set of morphological characters but intends to include molecular and biochemical character sets.


Send Shireen email at sfahey@calacademy.org
Send Terry email at tgosliner@calacademy.org

---
© The Slug Site, Michael D. Miller 2000 All Rights Reserved.




---