Roboastra sp.
Courtesy of Anne Dupont



---
Roboastra sp.
This undescribed species of Roboastra is one of the wildest looking and nastiest Branchs in town. This is, if in town for you is the Galapagos Islands.
Included recently in the newly published Field Guide to Marine Molluscs of Galapagos by Cleve Hickman and Yves Finet, it feeds voraciously on its sister Polycerid species, Tambja mullineri. This species has white gills, atop a yellow and blue striped body. The rhinophores are orange. There is no species it can be confused with. Not much is known about this species, aside from the fact that it is common enough to be included in two recent books. It reaches 60 mm in length, and seems to be endemic to the Galapagos Archipelago.
Had Darwin been a diver, he would surely have loved to meet up with this critter.
---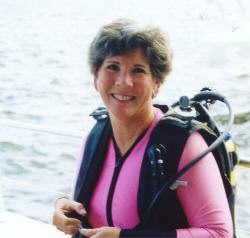 Anne is a retired IBM instructor whose favorite pursuit is underwater photography. She particularily enjoys photographing invertebrates. Anne has won international awards for her underwater photographs, and has been published in numerous SCUBA diving magazines, and other marine and non-marine related magazines. She also has been published in several books including "Venomous & Toxic Marine Life of the World."

Anne and her husband reside in Delray Beach, Florida. When not diving Florida waters, they spend their time diving and cruising the Bahamas on their trawler.

You can drop Anne a note at adupont@gate.net
---
Taxonomic information courtesy of Dave Behrens

---
© The Slug Site, Michael D. Miller, 2000. All Rights Reserved.

---