Roboastra luteolineata
Courtesy of Steve Drogin

---
Roboastra luteolineata (Baba, 1936)

Described in 1936 by Dr. Kikutaro Baba of the Seto Marine Biological Laboratory in Japan, the species was originally assigned to the genus Nembrotha because of its characteristic long slender Nembrotha-like body shape. The name 'luteolineata' was obviously chosen to draw attention to the yellow lines down the length of the dorsum. It is distinguished from its similar sibling species, Roboastra gracilis, by its thinner mid-dorsal lines which extend up onto the gills, and the gills themselves which are highly branched rather than simply pinnate in R. gracilis. Ironically the two often occur together on shallow reef flats.
Steve's photo documents this species from Indonesia, which to date is known from South Africa (see Nudibranchs of South Africa by Gosliner), Andaman Sea of Thailand (see Nudibranchs and sea Snails by Debelius) and Japan (see Guide Book to Marine Life by Masuda). Each of these authors suggests that the distribution is surely wider occurring throughout the Indo-Pacific. Thanks to Steve for demonstrating this.
Specimens have been documented to 7 mm in length.
---

Janolus sp. photo courtesy of Steve Drogin of San Diego, Calif.
Steve Drogin photo courtesy of James Watt of Kona, Hawaii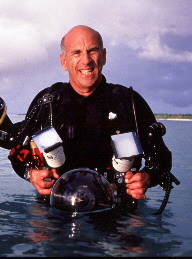 The Nudibranch photo was taken in October 1997 at Kungkungan Bay Resort which is located on the Lambeh Strait near Manado on the northern tip of Sulawesi in Indonesia. This area is extremely densely populated with marine life due to its cooler temperature and strong currents.

Steve is a 58 year old amateur Diver/Photographer who spends full time traveling and diving the globe. He lives in La Jolla, California and is a member of the San Diego Underwater Photographic Society. His photographic credits include an article on the sunken fleet of Bikini Atoll in Sports Divers Journal(Issue 16) .

Send Steve mail at sbdrogin@mill.net
---
Taxonomic information courtesy of:



---
© The Slug Site, Michael D. Miller 1999. All Rights Reserved.






---