Cuthona yamasui

Photograph Taken at Dauin, Negros Oriental, Philippines by Webmaster



Cuthona yamasui Hamatani, 1993


This is without question my favorite Indo-Pacific Cuthona. A large species for this genus, it usually reaches 20 mm in length but in this instance was recorded at a whopping 45 mm - big enough for most of us to find on subtidal sojourns!

The head is white and the cephala-tentacles and rhinophores orangish-brown. The are 18-20 rows of cerata, the tallest along each ridge being nearest the dorsal midline. The 'Cub Scout' blue and yellow ceratal colors vary, but go something like this. They are tipped by either white or black. If white, there is a thin subapical black band. Below this is a yellow band followed by a terrific blue band (appearing grey in Mike's specimen shown here). See Debelius, pg 306, Nudibranchs and Sea Snails. Indo-Pacific Field Guide for the typical blue ceratal banding. The remaining 1/2- 2/3's of the ceras being white. As shown clearly here in Mike's photo, the amount of white on the cerata varies from the mid-line outwards, the outermost cerata having little or no white at all.

A hydroid predator, its distribution ranges from South Africa and Tanzania to Western Australia and Indonesia.

The next time you see this tidy Cub Scout of a nudibranch scouting the bottom to do a good deed, please salute it for me.

Webmaster's Note Aug. 9th, 2002 : Updated information that has appeared on Bill Rudman's Sea Slug Forum since our presentation of Cuthona Kanga indicate this animal is probably Cuthona yamasui . What can be said, they sure look the same to me!
---
Group Photo courtesy of Alan Grant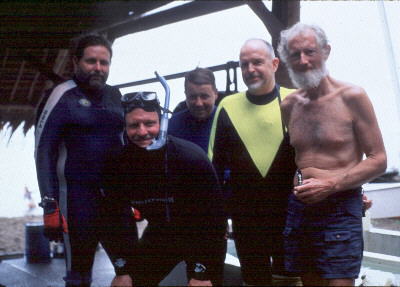 This is the motley crew that made the April trip this year to Dauin, Negros Oriental, Philippines on our annual spring branching excursion. Pictured from left to right are Calvin Rucker (Albuquerque, New Mexico), Alan Grant (Laguna Beach, California), Jerry Allen (Tucson, Arizona), Michael Miller (San Diego, California) and Clay Carlson (Merizo, Guam). The species count was somewhat down from previous trips but we nevertheless made some interesting finds which will be featured in upcoming Branch of the Week's (BOW's) beginning with Cyerce elegans. Special kudos are in order for Kevin, an english chap who took our group under his wing and found Cuthona kanga in the sea grass during an afternoon dive at El Dorado Dive Resort . If you are reading this Kevin, pls drop me an email!

We found El Doroado to be a well managed diving resort with an outstanding house reef right in front. Perhaps a little bit pricey from what we are accustomed to in the Philippines, but nevertheless well worth visiting if you are in the area!



Webmaster
July, 1999

---
Taxonomic information courtesy of Dave Behrens





© The Slug Site, Michael D. Miller 1999. All Rights Reserved.


---