Cyerce elegans
Photograph Taken at Dauin, Negros Oriental, Philippines by Webmaster



Cyerce elegans Bergh, 1870


Most of us are familiar with the outrageously flamboyant and aposomatically colored Cyerce nigricans, who wards off its predators by displaying its bright colors. C. elegans on the other hand, while as elegant as its name implies, is a cryptic species, which carefully blends in with its brown alga prey. Depending upon diet and locality, specimens of this species vary from nearly transparent to white to reddish-brown, the specimen shown here being an intermediate color.

The rhinophores are typically sacoglossid being rolled, and the flattened leaf-like cerata are easily autonomized (cast off) when the animal is disturbed. This behavior is another defensive tactic giving a wanton predator more than one target to menace. Mike's photo clearly shows the distinguishing blue spot near the base of the cerata.

Specimens may reach 50 mm in length. It is reported to feed on the algae Halimeda opuntia (see recent communiqués on The Sea Slug Forum ). The distribution of the species includes: East Africa, Mauritius, Indonesia, the Philippines, Australia, New Caledonia and Hawaii.


---
Group Photo courtesy of Alan Grant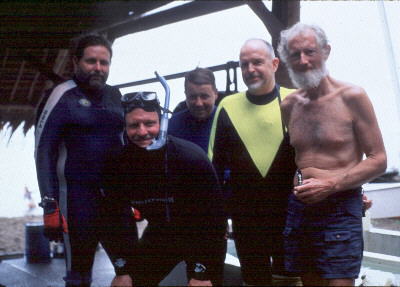 This is the motley crew that made the April trip this year to Dauin, Negros Oriental, Philippines on our annual spring branching excursion. Pictured from left to right are Calvin Rucker (Albuquerque, New Mexico), Alan Grant (Laguna Beach, California), Jerry Allen (Tucson, Arizona), Michael Miller (San Diego, California) and Clay Carlson (Merizo, Guam). The species count was somewhat down from previous trips but we nevertheless made some interesting finds which will be featured in upcoming Branch of the Week's (BOW's) beginning with Cyerce elegans. Special kudos are in order for Alan (aka the diving dentist) who first encountered C. elegans during a night dive on the house reef at El Dorado Dive Resort .

We found El Doroado to be a well managed diving resort with an outstanding house reef right in front. Perhaps a little bit pricey from what we are accustomed to in the Philippines, but nevertheless well worth visiting if you are in the area!



Webmaster
July, 1999

---
Taxonomic information courtesy of Dave Behrens





© The Slug Site, Michael D. Miller 1999. All Rights Reserved.


---