Mexichromis antonii
---
Mexichromis antonii (Bertsch, 1976)


When I first named this species in honor of my dear friend and colleague Dr. Antonio J. Ferreira, he was in the hospital recovering from a serious illness; even though I knew this species would eventually be placed in an as-yet-at-that-time undescribed genus, I opted to quickly name the species first as a member of Chromodoris, and then deal later with the proper generic placement in a lengthier review.

Mexichromis antonii has been reported subtidally (to 80 feet) from the central Gulf of California (Morro Colorado, Sonora) to Costa Rica. This small chromodorid is approximately 6-12 mm in total length while alive. As I wrote in Kerstitch's Sea of Cortez Marine Invertebrates (Bertsch, 1989), the "body color consists of shades of blue, magenta, black, yellow-orange, and white. A yellow-orange line encircles the body margin; a black line immediately borders the inner side of the yellow-orange band. A wide area of light blue covers the rest of the lateral body region."

Other key references for the species and genus include Bertsch, 1978; Bertsch & Kerstitch, 1984; and Rudman, 1984.



LITERATURE CITED


Bertsch, H. 1976. A new species of Chromodoris (Opisthobranchia: Nudibranchia) from tropical west America. Veliger 19 (2): 156-158
Bertsch, H. 1978. The Chromodoridinae nudibranchs from the Pacific coast of America.--Part III. The genera Chromolaichma and Mexichromis. Veliger 21 (1): 70-86.
Bertsch, H. 1989. Opisthobranchiate Mollusca. In: Kerstitch, A., Sea of Cortez Marine Invertebrates (Sea Challengers, Monterey), pp. 54-68.
Bertsch, H., and A. Kerstitch. Distribution and radular morphology of various nudibranchs (Gastropoda: Opisthobranchia) from the Gulf of California. Veliger 26 (4): 264-273.
Rudman, W.B. 1984. The Chromodorididae (Opisthobranchia: Mollusca) of the Indo-West Pacific: a review of the genera. Zool. Jour. Linnean Soc. 81 (2/3): 115-273.

---
Text by Dr. Hans Bertsch, Photograph by Dr. Antonio J. Ferreira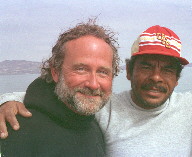 Dr. Hans Bertsch

Assoc. Prof.
Dept. of Math and Natural Sciences
National University
192 Imperial Beach Blvd. #A
Imperial Beach, CA 91932
FAX (619) 423-9118
Send Hans E-Mail at hansmarvida@cox.net

---
© The Slug Site, Michael D. Miller 1999. All Rights Reserved.




---