Sclerodoris paliensis
---
Sclerodoris paliensis Bertsch & Johnson, 1982
Family Asteronotidae

The scalloped surface of this nocturnal Hawaiian endemic is reminiscent of the fluted cliffs and valleys of the Hawaiian Islands. Its color is dirty yellow to orange-yellow. Authors Bertsch and Johnson encountered most of their specimens at night at depths between 6 and 20 ft. However, I have never seen one in the wild despite extensive night diving. Perhaps it was more common in the 80s than it is now. (The photographed specimen was brought to me by an aquarium collector found found it in a few feet of water off Waikiki.) The species name comes from the Hawaiian word pali, meaning "cliff." The animal attains about 2 1/2 in. and is known only from Hawaii.
---
Photos and Text courtesy of John Hoover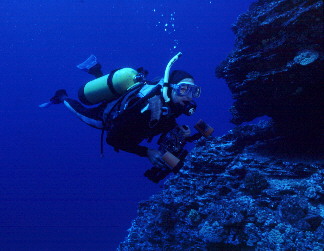 Author/photographer John P. Hoover lives in Honolulu. He has published two books on marine life of the Hawaiian Islands. His third, a field guide to the marine invertebrates of the Hawaii, will be available approximately February 1999. With over 600 photographs, it will cover 500 species, including 66 of Hawaii's most colorful and interesting opisthobranchs.

Hawaii's Fishes, a Guide for Snorkelers, Divers and Aquarists Mutual Publishing, 1993

Hawaii's Underwater Paradise, Mutual Publishing, 1997

Hawaii's Sea Creatures, a guide to Hawaii's Marine Invertebrates. Mutual Publishing, 1999.

John's books are available through Sea Challengers !

Send John E-Mail at hoover@hml.org

---
© The Slug Site, Michael D. Miller 1999. All Rights Reserved.




---